Kitty and Claire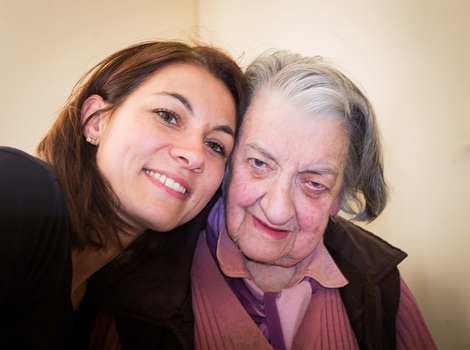 Claire knows what I like and what I don't want. She is a darling, a lovely lady. The first day I met her I said, 'aren't you tall?' And we've got on lovely ever since. I've got nobody looking after me apart from Claire. She's the only lady I've got. I can hardly walk and my eyes are going. And if she goes away she always makes sure there's someone else to come round and take me shopping. Always. You can imagine this old girl sitting by herself on the floor, moaning and groaning at herself because she can't get out. That's what it would be like for me if I didn't have young darling Claire coming and taking me out. And I like the way she talks, even if I can't understand her accent sometimes! She's a treasure. She makes me so happy. I've been crying all the week - now look, I'm laughing! I've met all Claire's family. Her husband kisses me on the cheek, don't you know, and I've met their kids. They are lovely. Claire's mother-in-law buys me treats from Paris and I've never been met her. Isn't that lovely? Claire is one in a million. You don't find many people like her in this world.
Kitty Morris, Befriendee
Kitty and I will have been meeting for four years in September. When we first met we sat and had a cup of tea with someone from the Octavia Foundation. I wanted to see someone regularly, once a week, because I wanted to speak English better, someone who was chatty, and to see them on a long-term basis. So we started seeing each other every week. At first I wasn't meant to take Kitty shopping but very quickly I found that she didn't have anybody to take her, so this is our thing now; every Thursday we have a chat, go shopping, come back and have a coffee. A long-term relationship is much better for me. So is consistency. I've got three kids, so I have to be back home in time to take them here and there - so having the same day every week works well. Doing something for somebody else is important. It's rewarding. I started volunteering when I moved to London from France five years ago. It is a real commitment, but you have fun and you get to know someone from a different background. I think it's the least you can do if you have spare time, to give some time to someone who needs it. Everyone deserves a cup of coffee and a good chat once a week. It makes me happy, and it's very rewarding.
Claire Levavasseur, Volunteer Befriender