Meet our award-winning shop volunteer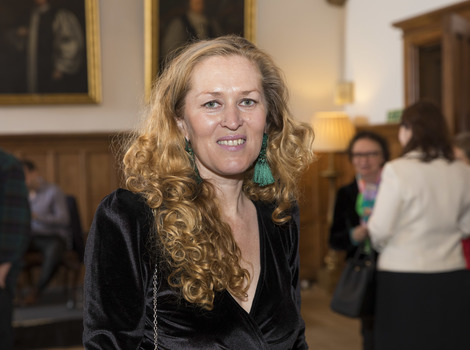 The Royal Borough of Kensington and Chelsea recently celebrated their 50th anniversary celebration of volunteering in the borough and featured 50 'top' volunteers in a publication and at an award ceremony. Octavia Foundation shop volunteer, Tatjana Kapoor, was included in the special nomination list. A dedicated and valued member of the Victoria shop team, Tatjana is well known locally for going the extra-mile for customers. Both customers and colleagues alike speak highly of her good advice and eye for design.
Tatjana says: "I love anything that is visual about this role: creating window displays, dressing the mannequins, helping customers find outfits and sorting the donations. Experimenting with different styles and looks has always come naturally to me. I can use my creative flair by contrasting different colours and styles to come up with eye-catching outfit combinations."
Tatjana, who has a hearing impairment, is grateful that her volunteering role was based around her needs and requirements:
"Being deaf can create quite a communication barrier as it is tricky to rely on lip reading when talking to staff and customers. My manager chose a shop with a large team who have proved to be a brilliant support network. The fact that I work regularly with the same colleagues really helps. They are great at writing information down for me, to make sure we understand each other, and they always explain things in a helpful manner. They also respect my independence, allowing me to go about my daily tasks unless I ask for assistance."
Working at one of our largest stores can be both challenging and rewarding, which proved to be the perfect environment for Tatjana to flourish. Her keen interest in learning and developing her employability skills is not only admired by her colleagues; it is also reflected in her own feedback about her time at the shop:
"Volunteering has been a really enriching experience for me, as I have learnt so much in such a short space of time. I had not appreciated how much responsibility I would be given until I started, but I am really pleased that I am enhancing my knowledge base and skillset all the time. In previous volunteer placements I never felt like I was being challenged, but at Octavia, there has been a clear synergy between opportunity and growth."
Tatjana had previously been at a crossroads in her career, but the shop placement has since pointed her in a new employment direction. "Having team members who believe in my ability has really boosted my self-esteem – even spurring on my decision to pursue a career in fashion retail", she says.
"I would wholeheartedly recommend volunteering at an Octavia shop. I promote the Octavia Foundation and volunteering positions to everyone I know. My confidence is through the roof and I have a great team that supports me."
Zahraa Fedhel, Octavia Foundation Volunteer Coordinator, says: "Tatjana is very special. Her ability to build rapport with customers and bring the shop to life through her striking window display designs is nothing short of remarkable."
But you don't just have to take Tatjana's word for it:
"Why not come on into a shop, try volunteering and find out for yourself?" she says.