The Story So Far...
Ten years since the Octavia Foundation was started, with one staff member working out of a redundant cupboard, we have gone on to work with over 10,000 people in Central and West London.
To mark this milestone we have commissioned a short film and report to highlight the stories of some of the many people we have worked with and evidence our impact over our first decade. You can hear about Moktar's journey from young film maker to teacher; witness the special bond between Claire and Kitty, befriender, and befriendee and have a look at a night at Base@theRiver, our young people's programme in the video below.
Ten years on film
Read about how we have worked in the community to transform thousands of lives, in our ten year report and view images from ten years of arts and digital media projects in our decade of dedication brochure.
Since we started out in 2006, with the goal of making a real difference to local lives in central and west London, we've helped 10,000 people, young and old. Some of those lives we touched only briefly. Others, we helped transform. And what excites us most, as we look back over the past decade, is how those individuals who were empowered to make the greatest changes in their own lives, were often those who then drove real change for others.'
Reena Mukherji, Director of the Octavia Foundation.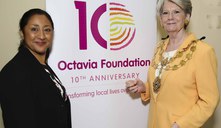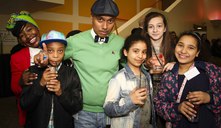 Yo London!
YO! London is the Foundation's latest digital media programme, and was showcased at Tate Britain as part of our tenth anniversary celebrations. Take a look at our showcase below.
showcase

To learn more about our work over the last ten years or plans for the future, please contact the Foundation team on 02028 354 5500 or email info@octaviafoundation.org.uk