The secret to a long life? Meet Rita - store volunteer and local hero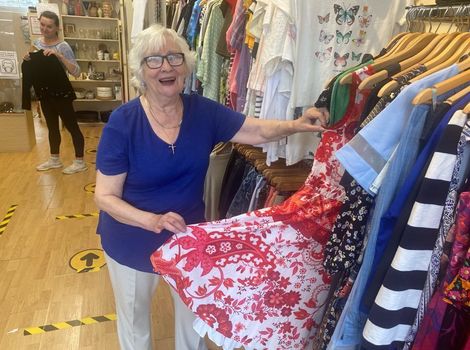 From the outside, the Askew Road branch of Octavia doesn't appear to be anything out of the ordinary. A treasure trove of curiosities, artwork and trinkets – you'd be forgiven for dismissing it as your usual charity shop. Go through the doors, however, and this store hides something very special. Nestled in the heart of Shepherds Bush, this popular neighbourhood haunt has been at the heart of the local community for over 25 years and doubles as a vibrant social hub where people can volunteer, donate and spend.
Three days a week, sitting on her usual chair behind the till, you'll find Rita – a much-loved volunteer and member of the community. At 83, Rita is not only the oldest volunteer for the charity, she has also worked in the store for almost as long as it has been there.
"I signed up to volunteer in 2001. I knew that sitting at home alone wouldn't be good for my mental health. I needed that spark that you get from being with other people. When I was a young girl, I dreamed of becoming a dress designer. Spending time volunteering at a charity shop felt like a great choice as I love second-hand fashion. I used to take my daughters charity shopping when they were younger, and we would have so much fun looking at all the clothes."
That was 21 years ago when Rita was 62 – and she hasn't missed a shift since.
"Over the years I've worked at several Octavia branches – Kings Road, Turnham Green and Kensington Church Street. I've tried my hand at everything from pricing and talking to customers to sorting donations and mending items. No two days are the same and time goes by so quickly."
Ask Rita what she gets out of it and her answer is unequivocal – companionship. During her decades at the till, she has met hundreds of people, with many encounters blossoming into firm friendships."I've been doing this for as long as I have because of the wonderful people that work here. The staff are an extension of my family. I work because of the people I work with and what an incredible mixture of people they are."
Rita's connection with the store runs deeper than volunteering – as it was also the place where she met someone special in 2010."Not long after my 75th birthday, a gentleman came in to ask about a drum kit in the window. We got chatting, exchanged details and before I knew it, we had fallen in love. It's funny because I used to joke with staff about how when you volunteer with Octavia, you meet a life partner."
On the anniversary of his death on August 7, Rita was amazed by what she found when she arrived at the store.
"I walked in to find a drum kit displayed in the window. It was amazing, you couldn't make this up. There really is something very special about this place. It holds so many wonderful memories for me. I used to meet my late daughter in here as it was a great halfway meeting point for us. One day I came across a doll that she used to have as a child. When I went up to the till to buy it for her, I remember her saying to the manager how I was the best mum in the world."
Rita is full of stories from her time with Octavia. From spotting members of London's glitterati to tracking down a pair of stolen designer boots.
"When I worked in the Kensington Church Street branch, I'd often see famous people, including musicians who were performing at concerts in the Royal Albert Hall and celebrities local to the area. I'll never forget when someone nicked those boots too. I was very impressed with the store manager who eventually managed to locate them at a vintage pawn shop."
And it's not just staff who have benefited from Rita's loveable personality.
Assistant Store Manager at Octavia's Askew store, Bogusia, said: "Rita has been a saviour for Askew Road. She is a kind, smart, loving and trustworthy person who is always ready to help. Most local people know and love her, some even stopping by just for a chat. We have so many wonderful volunteers but I wouldn't swap Rita for the world."
Rita may be 83, but she still works three days a week – and has no plans to slow down any time soon.
"I like to feel useful and like I'm capable of doing something. It's that feeling of making a contribution that I love. Working here gives me a reason to get up in the morning, get dressed and get out of the house. I get so much out of it."
Dedicated and hard-working volunteers like Rita support Octavia in so many ways and, after such a difficult period during the pandemic, they have all pulled together to help get our stores back open so that we can generate vital funds for the community.
Discover more about volunteering with us and find local volunteer opportunities near you: https://www.octaviafoundation.org.uk/voluntee