Meet our star volunteer team from different walks of life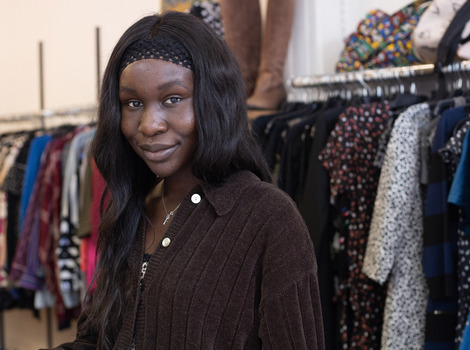 Meet our Tooting volunteers– the heart and soul of our popular South London store. A 13-strong team clocking up 100+ hours a week, the breadth of their backgrounds and experiences bring huge benefits to our retail work. The store, in turn, works with members of society who have the most to gain - providing a purpose and place for marginalised people to help and feel part of their local community.
Russell, volunteer champion and Tooting Store Manager, speaks passionately about the tangible difference a diverse team can bring.
"A team shouldn't be one-dimensional", says Russell. "It needs people from different backgrounds and walks of life. The more different people you can bring into a workplace, the more solutions you can find to different problems. Each member of their team has their own unique strengths and each one of them has been fundamental to the successful running of our store – increasing donations, purchases and community spirit."
On the day of the interview, it's a sunny morning in Tooting– a vibrant area named by Lonely Planet as one of the 10 coolest neighbourhoods in the world. The hustle and bustle on the high street is echoed in the lively atmosphere of the store, where volunteers, Suzanne, Josephine and Naomi, are sorting through bags of donation. The sense of 'family' is palpable, as they chat, laugh, and joke like lifelong friends.
Josephine says: "This store has created a whole new social circle for me. The atmosphere is so good and there is always plenty of banter and laughter during our shifts. Suzanne and I have been coming here for over four years now so we've got to know each other very well. As a team, we meet up outside of work and often hang out over the weekend. Some of us have even been known to take on extra shifts so that we can spend more time together."
Many of the team cite free-time as their main reason for volunteering – but for all of them its more than being able to fill a spare afternoon. No more so than for Suzanne, Russell's first recruit and a great volunteer success story.
Suzanne: "I came here when I was recovering from an illness. After spending time at home alone and bored, I knew I wanted a change and a reason to get out of the house more often. From the start, this environment felt like a healing place, as it took my mind off the pain I was experiencing. Over time I've gradually increased my shifts as I love the team and look forward to seeing them every week."
The change that Suzanne has seen in her life is something many of Octavia's 350 volunteers have experienced. By providing people with new skills and confidence, volunteering has been shown to aid social integration for a range of groups. This is of particular value to those most excluded from the labour market, such as people with learning disabilities.
For Matthew, a volunteer with autism, his shifts are a welcome focal point of his week. When asked what it he enjoys most about his time spent at the store, he answers: "It gives me a chance to get out of the house and speak to others."
As well as fostering connections, volunteer placements at Tooting have also served as a springboard to paid work and new vocations. For Assistant Store Manager, Joanne, it has led to an entirely new calling –one that has made her much happier.
"I've been working at Octavia since 2017. I started off as a volunteer, returning to work after taking a career break to raise my family. Going back into employment, I knew I wanted to do something different. What I loved most about working in the Putney store was the chance to meet and talk to new people every day. I went on to work as a paid staff member and was encouraged by my manager to go for an Assistant Manager role at Tooting. The rest, as they say, is history and I've loved every minute of it."
The same can be said for Ralph, a long-term volunteer who also has learning difficulties. Coaching and mentoring from Russell empowered him to move from his job as an usher to a new security guard role, a profession that is providing him with more stability and better pay and enabling him to stay living in the area he grew up in.
Russell: "Ralph loves the time he spends here. He is known and loved by regular customers and casual shoppers alike. He has learnt a lot about customer service through volunteering, a skill that has greatly benefitted him in his new role. It's great to hear how well he is doing."
Naomi, 19, the youngest member of the team and newest volunteer, is currently on a gap year ahead of starting at Brunel University in September. Volunteering with Octavia has allowed her to try her hand at different skills and challenges – from working in a team to communicating with customers.
"I came to here to get work experience that will help me in my future career. I've only been here for a month but I'm already feeling much more confident than when I first arrived. Working on the till and dealing with cash has been a great way for me to practice my mental arithmetic, a skill that will prove useful when I begin my Maths and Computing degree. I've also picked up some soft, transferrable skills too, such as verbal communication and time management."
An interest in second-hand fashion is a passion shared by several members of the team.
Suzanne: "For me, one of the best things about working in charity retail is the opportunity to practice and promote sustainable fashion. I'm a firm believer in recycling clothes and minimising waste. It gives me great pleasure to think about the history of the pieces we sell."
Naomi: "One of my New Year's Resolutions this year was to stop buying pieces from fast fashion companies. I love the idea of reusing clothes and giving them a second life."
All the volunteers are local to the area, each one motivated to give back to the community they inhabit, love and, in many cases, grew up in.
Naomi: "I've lived in Tooting my whole life, just two minutes away from the store. But since working here, I've felt much more connected to my community. For any local people looking to make a difference close to home, I cannot recommend volunteering with Octavia enough."