International Youth Day - Adil's story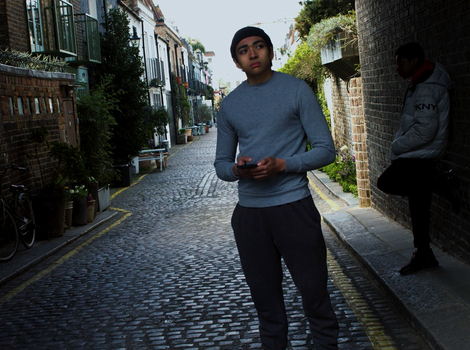 Hailing from west London is Adil, 19, an aspiring actor and screenwriter. With talent, passion and ambition in abundance, his future in the industry looks bright. Taking part in our digital media projects has proved instrumental in shaping his career – equipping him with the experience, skills and contacts needed to turn his passion into a profession.
Half Indonesian and half Egyptian, Adil was born and raised in London by immigrant parents, "5 minutes from Regent's Park and St Johns Wood and 10 minutes from Baker Street".
"I've always had a fascination with acting from the outside looking in, but it was never something that was introduced or encouraged when I was growing up. My parents didn't understand it or know anything about it. We were told to do Maths and English, but I didn't like school and I hated those subjects. I wanted to pick drama and art, but I ended up going to a sports college for a BTech. From a young age I was into football, but it was during my first year at college that I realised it wasn't the career for me."
Without the connections to put you in the know or the means to pay for specialist training, breaking into a creative industry can seem nigh-on impossible – as was the case for Adil.
"I remember looking up drama schools when I was 14 but the prices put me off. It was only when I was introduced to the White City Youth Theatre that my outlook started to change. I moved to a college in East Barnet that specialised in performing arts. It was at that point that I realised I preferred theatre and film, so I applied for a scholarship at the Rose Bruford college for theatre and arts."
It was in the early stages of navigating the industry that Adil came across Octavia's unique offer. Our free skills-based training programmes enable young people to work closely with leading professionals, gaining invaluable experience and knowledge, as well as a chance to develop their technical and creative skills.
"Through the projects I've been involved in – a play, a documentary and five films – I've gained so much experience. I've also received guidance, support and connections that I couldn't have got elsewhere. Opportunities are so important for people like me. You hear of others getting turned away because they aren't qualified, but you've got to ask yourself why are they not qualified? Why aren't there more free opportunities like this out there? With cuts to youth provision, the sad fact is there just aren't at the moment."
One-to-one coaching and mentoring support from Octavia's Digital Projects Manager, Tommy, has given him a solid foundation for learning about the industry and finding his place within it.
"The positive experiences I've gained are thanks to Octavia's youth projects manager, Tommy. He knows about this industry inside out and he knows actors that are doing really well. If I ever have any questions, he will have the answers or know a way to find out more. He also lets me know every time he sees a film project that he thinks I would be interested in. When I was applying for university, he helped me out with my video auditions and how to talk about myself on camera. After being unsuccessful last year, this support made a real difference and helped me get into Guildhall to study a BA in drama."
An industry that thrives upon contacts and collaboration, meeting likeminded people has further developed Adil's skills and taught him more about his craft.
"Tommy has put me in touch with loads of people– producers, agents and other actors. Being able to see how it all works from the inside and meeting potential collaborators has been so valuable."
And it's not only acting that Adil is gifted at. Through Octavia's 'A Time to Change' project, he was given a glimpse into the world of scriptwriting.
"Tommy supported me to write my first script. I wrote the first draft including the dialogue and the actions to go with the narrative and he gave me some useful feedback that I used when re-drafting it."
A 'pinch me' moment was an introduction to one of his role models, Kingsley Ben-Adir, a British actor who has starred in British dramas such as Peaky Blinders, and someone whom Adil looks up to and admires.
"I had seen Kingsley's film 'One night in Miami' before and loved it. It's inspirational to see actors from mixed heritages and backgrounds doing well and making their mark in the industry."
For Adil, the real-world cost of current misrespresentation is measured in the lost potential of untold stories and unfulfilled careers. He recognises the power of script-writing to redress this imbalance and pave the way for others.
"Writing needs to be more inclusive. Many people think true representation is achieved by seeing people of colour on the screen, but that doesn't go far enough. The stories of people from Black, Asian and minority ethnic backgrounds remain hidden and under-represented. I see scriptwriting as a way to tell these stories. The 'A Time for Change' script was a great example of this as it gave us a chance to explore unconscious bias and structural racism through a dramatized adaptation of our own experiences."
Growing up in a low-income area left a lasting impression on Adil, one that he wants to see better represented in the industry.
"We are working on a child poverty film at the moment, a topic that is very close to my heart. The story sees an 18-year-old boy and a 7-year-old girl living in a dilapidated one-bedroom council estate flat. There is a leak in the bathroom and when a plumber comes into fix it, they feel embarrassed to let them in because of their living conditions. These are the types of stories that are underrepresented, and it means a lot that we can capture them."
So what does his dream career look like? Acting is, of course, high up on the agenda, but writing a tv series features prominently too.
"I'd like acting to be my profession, both in film and theatre. But I'm also keen to write my own projects and act in them. Maybe a series, like Ramy Youssef or a film, like Riz Ahmed and Mogul Mowgli, which he co-wrote, produced and starred in. Both are big inspirations for me."
A creative force to be reckoned with, we can't wait to see Adil turn those dreams into a reality.