We kick things off at Base in April with our 2 week Easter half term programme, which runs from the 4th to 14th April. Activities we have planned include trips to Gravity Arcade, Westway Climbing Wall, Venture Playground, a mini project to design your own pair of trainers, our Easter video game competition (with prizes) and more. You can sign up for the Easter half term activities HERE

To find out more information (All activities are free to attend, but spaces are limited and require membership form to be completed) contact Conor on conor.lynch@octaviafoundation.org.uk or 07985692369
Check out the full schedule below (Click the image or HERE for a Hi Res PDF).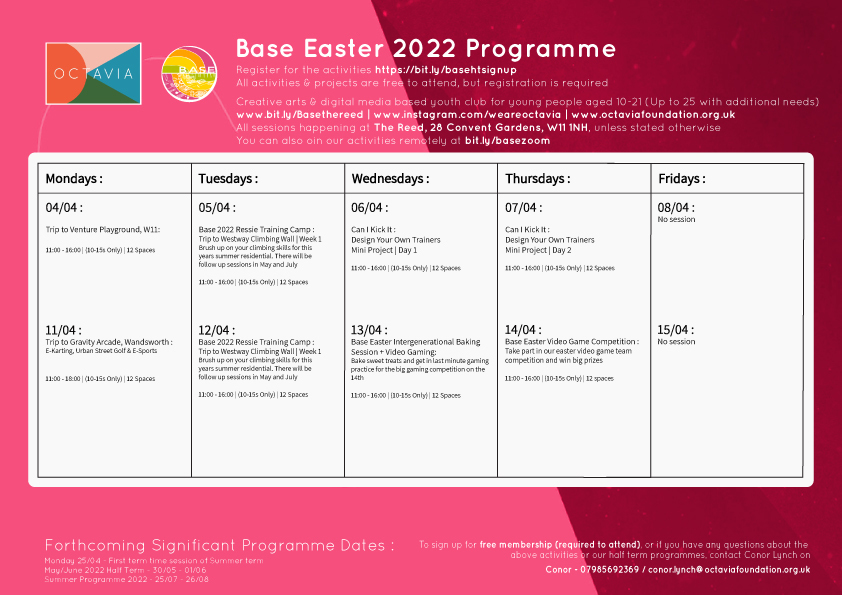 For any other information or questions, please contact Conor Lynch on conor.lynch@octaviafoundation.org.uk or 07985692369
Download a Base membership form HERE. Membership is required to attend half term activities and trips
Forthcoming Key Dates:
First term time session of Summer Term - Monday 25th April
May/June Half Term - 30/05 - 01/06
2022 Summer Programme - 25/07 - 26/08

Map:

Download a Base membership pack here

View our database of support services and information for young people here

View our Base members complaints policy here

View our Base members confidentiality policy here

View our Safeguarding policy here and procedure here

Follow us on instagram here

Follow us on soundcloud here

Follow us on mixcloud here
Conor on conor.lynch@octaviafoundation.org.uk or 07985692369