We are back again with our annual 2022 summer programme with a diverse, exciting project jam packed full of fun activities. It runs from Monday 25th July to Friday 26th August, and takes place at The Reed and various locations across London. Activities include creating a digital orchestra multimedia puppet show, an entrepreneurial jewellery design project, video game and cooking competitions and trips to an Aqua Park, Laser Tag, Go Ape, Dreamland Margate, the BFI IMax, Legoland, London Zoo and much more. The full schedule can be viewed below.

To find out more information (All activities are free to attend, but spaces are limited and require membership form to be completed in addition to registering - download below) contact Conor on conor.lynch@octaviafoundation.org.uk or 07985692369 for full info

Check out the full schedule below (Click the image or HERE for a Hi Res PDF).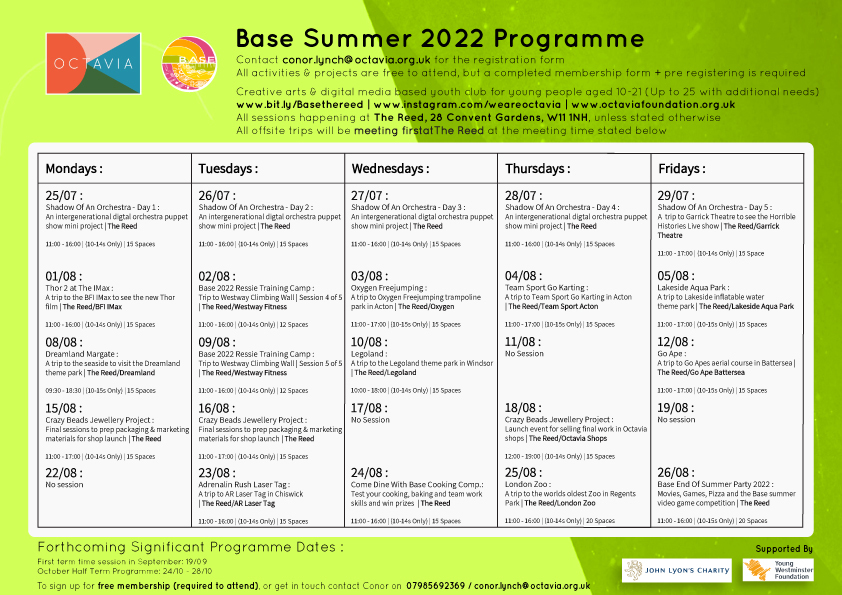 For any other information or questions, please contact Conor Lynch on conor.lynch@octaviafoundation.org.uk or 07985692369
Download a Base membership form HERE. Membership is required to attend half term activities and trips
Forthcoming Key Dates:
First Session Back in September - 19/09
October Half Term Programme 2022 - 24/10 - 28/10
Map:

Download a Base membership pack here

View our database of support services and information for young people here

View our Base members complaints policy here

View our Base members confidentiality policy here

View our Safeguarding policy here and procedure here

Follow us on instagram here

Follow us on soundcloud here

Follow us on mixcloud here