Were back after a mega half term week to end October, with new projects happening at The Reed, starting at our Wednesday juniors group (A christmas multimedia performance), a new gaming competition for the term on Mondays (with prizes for the winners), our music video project continuing on Thursdays and a new session for SEND young people, Access Digi Base, running every Tuesday evening. We also have our movie watch parties on Zoom every Friday evening.
All these activities are all free to attend, but spaces are limited and on a first come, first served basis. You can sign up HERE or by contacting Conor on conor.lynch@octaviafoundation.org.uk or 07985692369
Check out the full schedule below (Click the image or HERE for a Hi Res PDF).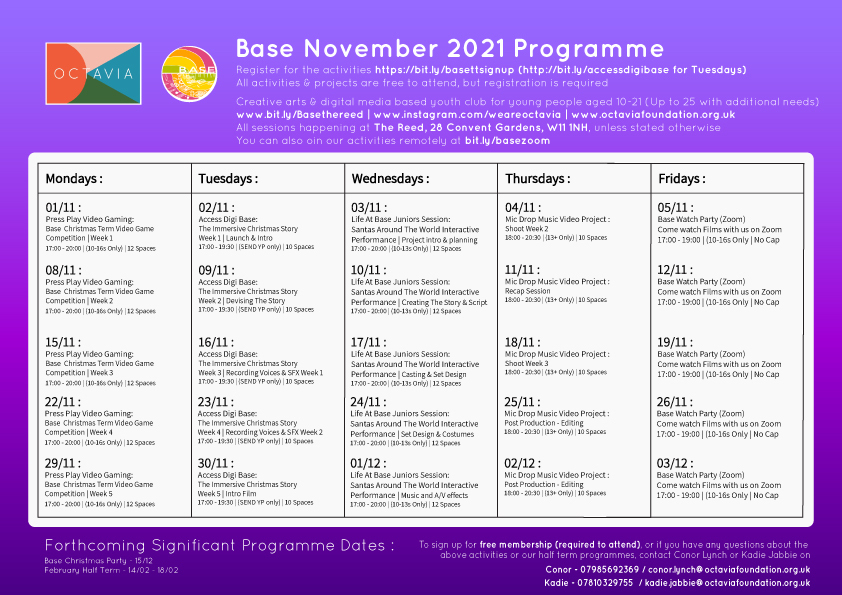 For any other information or questions, please contact Conor Lynch on conor.lynch@octaviafoundation.org.uk or 07985692369
Download a Base membership form HERE. Membership is required to attend half term activities and trips
Forthcoming Key Dates:
Base Christmas Party - Wednesday 15th December
February Half Term - 14th to 18th February

Map:

Download a Base membership pack here

View our database of support services and information for young people here

View our Base members complaints policy here

View our Base members confidentiality policy here

View our Safeguarding policy here and procedure here

Follow us on instagram here

Follow us on soundcloud here

Follow us on mixcloud here
Our reception remains closed
Contact us using any of the following ways
Read it here