Clifton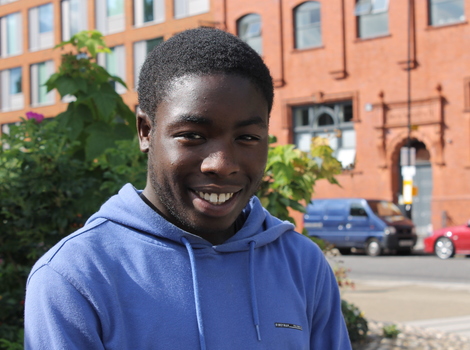 Clifton, 18 and living in Fulham had just completed his NVQ2 in Electrical Engineering at Uxbridge College, and was working part time in a local restaurant when he saw the flyer for the Octavia Apprenticeships.
I decided to come along to the open day as I'd started looking for work after finishing my NVQ. I was struck by how much opportunity there was for me at Octavia and how willing and supportive everyone was of the apprentices. Everyone was really friendly and I decided to apply for the Apprentice Electrical Engineer role there and then.

I was successful in my application and was made to feel really welcome when I started. Oswald is my mentor and when I first started he sat me down and went through the role with me. He has been massively supportive of me and has helped me to settle in. We work together every day and he feels like part of my family now!

Day to day we're out and about doing lots of practical work – we look after electrical maintenance in all of the communal areas of the blocks and have recently been doing lots of energy surveys to find out how we can make energy usage across Octavia's properties more energy efficient. I also do a fair bit of admin work in the office after we've done visits and surveys – data entry and things. I prefer doing practical work though, it gives me the chance to put into practice all of the things that I learnt on my NVQ.

I've also learnt a huge amount from Ossie, he's always teaching me things!

There have been tremendous benefits from my apprenticeship, I've got lots and lots of experience which I know is so valuable and have also been supported to complete by NVQ3 in Electrical Engineering, also at Uxbridge College. I keep in touch with my friends from the NVQ2 and it's great to see how we've all gone on to different things.

The best thing about the apprenticeship is all of the work experience I've accumulated and I've learnt lots of things on the job as well. Just as importantly though I feel more ambitious as a result of what I've done and the people I've met. Working at Octavia has boosted my confidence and it's opened my eyes to the career paths that are open to me, before I just wanted to be an electrician, but now I really see myself in ten years as a qualified electrical engineer, hopefully in a management role.

To anyone who is thinking about doing an apprenticeship, I would just say GO FOR IT! I've had a brilliant time, in a brilliant organisation and feel really, really positive about my future.
Clifton