Spotlight on Volunteers - Matthias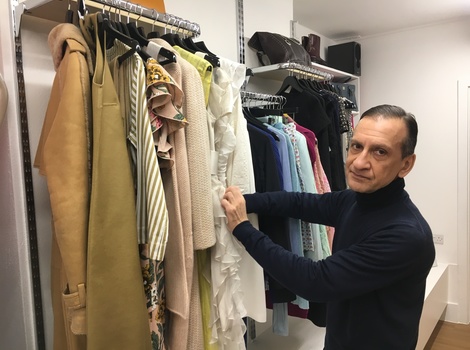 Octavia's shop on Brompton Road caters a range of clothes and fashion accessories perfectly in tune with its location, in the heart of Knightsbridge. Donations, in fact, come from both individuals living in the neighbourhood as well as a number of nearby retailers – ranging from Harrods to other high-end boutiques, resulting in a collection of items normally including brands such as Chanel, Prada, and Christian Dior, among others.
One of the people behind the shop's success and good reputation is Matthias, a volunteer who has been part of the Brompton Road team since the end of 2017, bringing not only genuine passion for fashion but also a professional background as a designer.
With a long track record living in Paris before moving to London, Matthias is enthusiastic about using his skills and competencies while helping both regular and new clients. "I love this shop," he says, "as it is in a friendly and yet quite particular environment, with customers that can be of all types. You would not think that women with a Chanel purse or expensive clothing would come to a charity shop. It is uplifting!"
Matthias also shared how, while it and it is fascinating to deal with very often high-end fashion labels, the extent to which they attract customers and visitors also depends on how they are presented and merchandised. "This is where I can use my expertise," he says, "ensuring that clothes and accessories are arranged in a certain way, making the shops and our other items as interesting as possible."
Thinking about the future, Matthias' dream would be to work as a designer again, as he really enjoyed the fashion environment during his time in Paris. In the meantime, he is also grateful for everything he has learned while supporting the Octavia shop, particularly with regard to the "buying and selling" aspects of the business.
When she first received Matthias' CV and was told about his passion for fashion, Zahraa Fedhel, who coordinates retail volunteers at the Octavia Foundation, mentions that she could immediately see him as a perfect match for the designer boutique on Brompton Road. "Matthias is a star volunteer we can rely on," she says, "as he can assist customers with high-end shopping experience, appreciate our preloved items and support the team."