Octavia supports 16 days of activism against gender-based violence
Thursday 25 November 2021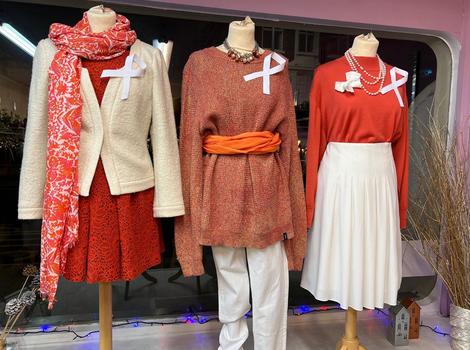 Today is the International Day for the Elimination of Violence Against Women and Octavia is showing its support, by proudly taking part in two global campaigns:
The United Nations 16 days of activism against Gender-Based Violence and White Ribbon Day
Octavia stores will have special window displays in its 22 shops across West London, displaying the UN's orange theme which symbolises a brighter future free of violence and also White Ribbons with its message stating that men's violence against women and girls must end.
Elizabeth Rowland, Housing Services Manager and Domestic Abuse Lead, is leading our activities at Octavia. She said:
"I'm incredibly proud of Octavia shop staff who have been busy overnight transforming all our window spaces with bursts of orange and white ribbons.
"At Octavia we believe that everyone has the right to be safe and free from abuse, so we wholeheartedly support these important global initiatives.
"Domestic abuse and violence against women and girls, is an issue we take very seriously. Our approach fits in with our corporate purpose of 'delivering equality through homes, support and opportunity.'
"By demonstrating our support for these campaigns today, we are sending out a clear message: gender-based violence is not ok. Also, we want to let any of our residents or colleagues experiencing abuse to feel confident that they can approach us, talk to us, be listened to, respected and supported."
We will continue to mark the 16-days of activism with a range of awareness raising activities over the coming weeks for colleagues and residents including a lunch and learn session, blogs and stories from across the organisation.
Sign up for updates
Sign up to our e-newsletter and receive all of the latest news and event details from the Octavia Foundation.
Subscribe
Tweets by @Octavia_Fdn