Films by young people promoting diversity win awards
Thursday 21 October 2021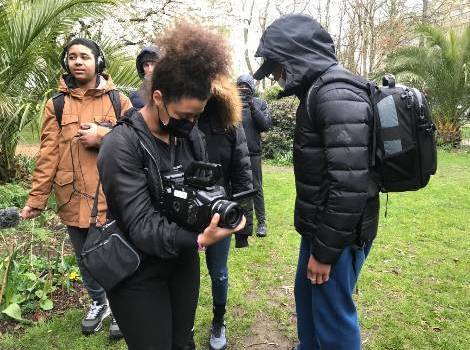 The amazing talent of young people involved in our 'A Time for Change' film project has been recognised through winning prestigious awards for diversity and cinematography at a London film festival.
Sixteen students aged between 13 and 19 were involved in the creative project to write, produce and act in two films which tell important stories about tackling racism and unconscious bias. The story lines, scripting and filming was all carried out by the teenagers with support from Octavia's digital media team and our partners Art-illery Collective. All of the planning took place over Zoom, with everyone meeting up for the first time for filming.
'Trials' is a film about a young black man's struggle to find his right path in life as he comes up against racial prejudice as he seeks to start his working career. 'In Your Shoes' is a humorous tale, with a thought-provoking message, about how two people swap bodies and experience the unconscious bias the other lives with every day.
The films won Best in Category for Diversity and Best Cinematography at the Link Film Festival. You can watch them online here:
https://www.youtube.com/user/OctaviaFoundation/videos
Octavia Digital Media Project Manager Tommy Edwards said: "We are very proud of the extraordinary resilience and creativity of our amazing young people to deliver such moving pieces of work. To get such recognition for the quality of the films at a film festival is a huge achievement for them."
Three of the young people involved have gone on to drama college and one is now at post-16 film school. We wish them every success with their future careers.
Sign up for updates
Sign up to our e-newsletter and receive all of the latest news and event details from the Octavia Foundation.
Subscribe
Tweets by @Octavia_Fdn