Celebrating Octavia's volunteers
Monday 1 June 2020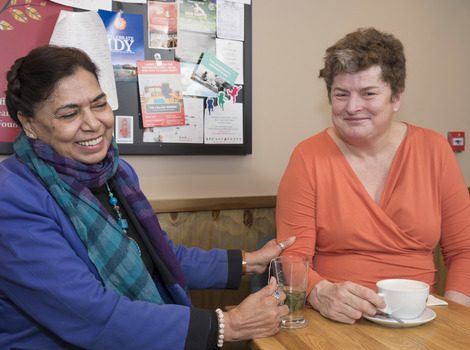 Today marks the beginning of Volunteers' week. On behalf of everyone from Octavia, we would like to say a huge thank you to our volunteers for generously giving their time to bring community, connections and support to Londoners of all ages.
At Octavia, we are incredibly fortunate to have more than 500 volunteers who share their skills and experience with us through volunteering. Whether they help out at one of our shops, work with our youth team, befriend an older person, volunteer in our office or take part in community events – their work is life changing and transformational for many.
The last few months have been extremely challenging for our volunteer projects and we have had to halt a lot of this work. However, thanks to the support of our volunteers, we have been able to continue our offer of support to people at this time. In April, we set up a telephone-befriending service, training and supporting hundreds of volunteers remotely. The service was launched to support older people who have very limited, or no contact, with others and are at risk of becoming even more isolated in their homes over the lockdown period. Switching over 100 volunteers from their face-to-face befriending programme has meant that those who rely on this service are able to keep in contact with their befriender, someone with whom they have a friendship bond.
Reena Mukherji, Director of Octavia Foundation, said: "Our ambition is to provide homes, care and support for the common good. Over the last 150 years, we have been continuing to deliver this mission based on the principles of our Founder, Victorian Philanthropist Octavia Hill. The contributions made by our volunteers are essential to helping us deliver on this mission and Volunteers Week is one way that we can recognise and thank them for the brilliant work that they do.
Normally at this time of year, we would be hosting our annual Volunteer Awards ceremony but unfortunately, this has had to be postponed. In rather different circumstances but with the same goal in mind, we will be showing our appreciation throughout the week via an online celebration on our social media channels.
Brenda, a befriending service from Westminster, said "I talk to my befriender for an hour every week… I have already found myself confiding in her because we have built a nice level of trust."
David, a befriending service user from Kensington and Chelsea, said "My conversations with Micky are the only contact I have during the week. The fact that she rang to wish me happy birthday and sent a card in the post meant the world to me."
Sign up for updates
Sign up to our e-newsletter and receive all of the latest news and event details from the Octavia Foundation.
Subscribe
Tweets by @Octavia_Fdn