Fashion historian takes a journey through London's Birth of Cool
Friday 28 February 2020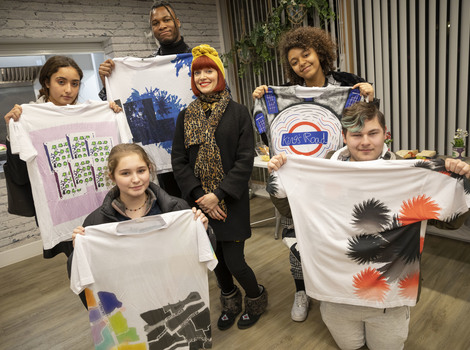 Octavia's Lottery funded youth project The Birth of Cool got a lesson from a fashion master on Thursday when TV presenter and clothes historian Amber Butchart spoke about how west London gave birth to modern fashion culture.
Her engaging talk explained how they city's melting pot of designers led to the evolution of truly original clothes design in the late 1950's and early 1960's that became entwined with revolutionary youth culture, emerging as a 'youthquake' of anti-establishment ideas, design and music.
Known as the 'Swinging 60s', the period set London apart from the rest of the world with its new fashion trends and made it the epicentre of new styles that were then copied around the globe.
From the invention of the mini-skirt by fashion students 'on the Kings Road' to the re-imagining of military uniforms to create the ultimate style apparel associated with rock stars like Jimmy Hendrix and the Beatles, and through the designers that brought the fashions to the high street through the invention of the modern 'boutique', Amber threaded her way through the history of west London's unique, counter-culture and sometimes controversial, but for many years world-leading, fashion history.
Young people involved with Octavia's Birth of Cool project were captivated by the talk at Octavia's community space, The Reed, and afterwards shared with Amber their own creative work with the project, showing her t-shirts they have designed and which were recently featured in an installation at Octavia's Brompton Road shop.
The Birth of Cool project has produced a film about the Punk history of the Kings Road, made by the young people involved and featuring contributions from artists and designers, Terry Jones, Suzie Zabrowska and Claire Barrow, a theatre production with the SPID Theatre Company and work with local community organisations and schools. Production on a second film is due to start in the next few weeks. The project ends in the summer, when the films, together with other creative outputs, will be showcased at an exhibition event.
https://www.octaviafoundation.org.uk/our_work/media_projects
Sign up for updates
Sign up to our e-newsletter and receive all of the latest news and event details from the Octavia Foundation.
Subscribe
Tweets by @Octavia_Fdn