Octavia is opening a new charity shop in Golborne Road
Wednesday 26 February 2020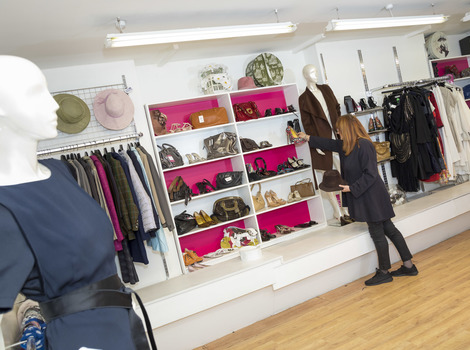 You are invited to join us on Saturday 7 March to celebrate the opening of our new shop in North Kensington
The west London homes, support and care provider Octavia is opening a new charity shop in Golborne Road, North Kensington, on Saturday 7 March.
Local people; fashion bloggers; Kensington MP Felicity Buchan; The Mayor, Councillor Will Pascall and Councillor Sina Lari are due to attend the shop opening event at 11.30am. The occasion will be marked with a short ribbon-cutting ceremony followed by light refreshments sponsored by local business Bertie Blossoms bar for the first customers welcomed through the door.
Golborne Road is one of 18 charity shops in central and west London owned by Octavia. The shops sell a mixture of new clothes generously provided by corporate donors, as well as an eclectic mix of quality pre-loved, vintage and collectable, clothing and accessories given by local people.
The shops have a reputation for good quality finds and are frequently recommended by alternative fashion opinion-formers as among the best places to shop for vintage clothing in London.
More importantly, the income raised through Octavia shops funds a range of community engagement and support services provided free to local people by Octavia.
Director of Octavia Foundation, Reena Mukherji, said: "We are thrilled to be opening our new shop in Golborne Road which is right in the heart of our community.
"Octavia has been providing homes, support and care for people in west London for more than 150 years. Our shops, which are supported by an amazing team of volunteers, are among some of the most attractive vintage clothes shops on the high street. We are extremely grateful for the constant generosity of all of our donors."
"Through this new shop we hope to develop our already strong ties with the local community even further. We look forward to meeting more of, and working among, the people who live and work around Golborne Road."
For further information contact: update@octavia.org.uk or speak to Jane McCormick on 0208 962 3536.
Notes for editors
Octavia shop opening: Saturday 7 March, 11.30am
Address: 104 Golborne Road, London, W10 5PS (next to Golborne Deli)
The income from Octavia charity shops funds opportunities for local people in central and west London, through:
Care and support for older people
Activities for younger people
Help with training and employment for people of all ages, and
Assistance with money and debt management for people of all ages
Last year Octavia supported:
624 older people through befriending and outreach
224 younger people through youth activities and events
521 people with employment and training
347 people with benefits advice and support, or welfare or educational grants
About Octavia
Founded in the 1860s by philanthropist Octavia Hill, our work today covers three areas: homes, support and care.
We provide people in central and west London with quality, affordable homes. With opportunities, connections and inspiration. And with the personalised care they need.
For the common good, since 1865. We connect. We are Octavia. Building good homes and better lives, since 1865.
Sign up for updates
Sign up to our e-newsletter and receive all of the latest news and event details from the Octavia Foundation.
Subscribe
Tweets by @Octavia_Fdn