Celebrating the punk history of London's Kings Road
Tuesday 17 December 2019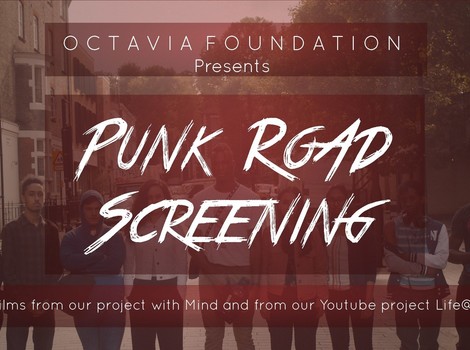 Young people bring legendary heritage of SW London area to life through Octavia Foundation film.
A documentary celebrating London's 'Punk Road', which explores how Vivienne Westwood's legendary shop at 439 Kings Road became the cornerstone of a monumental shift in youth culture and fashion, was showcased at a community screening at Kensington Central Library on Monday (9 December).
Called 'Punk Road', the film was filmed and produced by young people, who were guided and helped by media industry experts including Claire Barrow, Terry Jones and Bani Mendy.
The documentary is part of a series of films and digital media productions being showcased through the 'The Birth of Cool' project, a National Lottery funded initiative organised by the West London based homes, support and care provider Octavia, that is linking young people with professionals across the film and fashion industry.
Reena Mukerji, Director of Octavia's charity foundation said: "We are proud of everyone involved in the production of 'Punk-Road' for using their talents and passion to creatively tell the story of a unique period of time on the Kings Road. Creative arts are an exciting way for young people to engage with and learn about a subject or issue – especially if they are the ones shaping and leading the creative process."
More than 30 young people are involved with the documentary, which re-imagines a defining time in music fashion and culture as part of 'The Birth of Cool' project – an 18-month series of digital media engagement programmes based around the Kings Road.
The programme provides young participants with the opportunity to learn new digital media skills, enjoy a creative outlet and connect with media art experts in the field.
The film is the first of several being produced through 'The Birth of Cool'. Others will be showcased in the Spring. The project is being run from Octavia's flagship community hub The Reed, in North Kensington, where young people have free access to industry standard digital media recording and editing equipment provided by the organisation's digital youth club.
The club is a vibrant and dynamic learning environment where young participants accessed state of the art facilities. Through achieving an array of broadcast standard outcomes, students are enhancing their portfolios, creating industry contacts and making strides towards a potential career in the arts.
By reinforcing community ties through a shared creative space, the project combats social isolation in young people. Production sessions take place in a collaborative work environment, with participants developing social skills and forging friendships over a shared hobby. A recent IPSOS Mori research report commissioned by Octavia revealed that signs of loneliness in London were found across all ages, with no significant difference by age in the percentage of Londoners reporting that they often or sometimes feel lonely.[1] Despite heightened media focus on loneliness in older people, it was the youngest age group (15-34) that were most likely to report ever feeling that they lack companionship or feel left out.[2]
Filming for the next phase of 'The Birth of Cool', a fashion concept film, which is also being supported by industry experts, starts this month (December).
Notes to editors
About the Octavia Foundation
About the Octavia Foundation
The Octavia Foundation supports people affected by ill health, social isolation, low income or unemployment in central and west London. We help more than 2,000 people each year through:
Care and support programmes for older people
Inspirational projects and outreach work engaging children and young people
Volunteering and training to help people with getting into work.
Much of this work is supported by our charity shops in central and west London.
About the National Lottery Heritage Fund
Using money raised by the National Lottery, we Inspire, lead and resource the UK's heritage to create positive and lasting change for people and communities, now and in the future. - www.heritagefund.org.uk
Follow @HeritageFundUK on Twitter, Facebook and Instagram and use #NationalLotteryHeritageFund
---
[1] Cameron Garrett, Margaret Blake, Amelia Byrne, Social Isolation in London (London, Ipsos Mori Social Research Institute, 2017), 1.
[2] Garett, Blake, Byrne, Social Isolation in London, 1.
Sign up for updates
Sign up to our e-newsletter and receive all of the latest news and event details from the Octavia Foundation.
Subscribe
Tweets by @Octavia_Fdn