Shops smash August sales expectations with help from volunteers
Monday 12 August 2019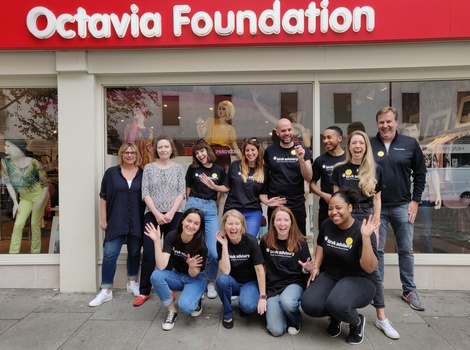 The Foundation said a big thank you to the accounting firm BTVK Advisory earlier this month after staff from the City firm helped to massively boost sales in a 'shops challenge' takeover day.
The event at Foundation charity shops in Brompton Road and Victoria helped staff to greatly exceed expected sales in the summer holiday period in both shops.
The Victoria shop sold nearly three times the amount of clothes, shoes and other pre-loved items expected for August. In Brompton Road, sales were more than twice that expected for the holiday season.
The Foundation works with local companies to encourage corporate volunteering at Octavia shops. Shops Challenge takeover days involve two teams of volunteers from the same firm competing at differing shops for the highest amount of sales with energetic and enthusiastic sales strategies.
Employability and Volunteering Programme Manager Liz Shipsey, said: 'We were thrilled to see the creativity and flair that BTVK Advisory brought to the challenge, working hard even in the heat, and especially when the shops are often quiet at this time of year.'
Funds raised by our shops go towards helping Octavia reach people in the local community, through matching volunteers with isolated older people, offering digital creative activities to young people and connecting unemployed adults with more opportunities for personal development.
If you know want to find out more about volunteering at our charity shops, contact liz.shipsey@octavia.org.uk or zahraa.Fedhel@octaviafoundation.org.uk.
Sign up for updates
Sign up to our e-newsletter and receive all of the latest news and event details from the Octavia Foundation.
Subscribe
Tweets by @Octavia_Fdn