New lease of life for iconic 1930s north London shop
Monday 19 November 2018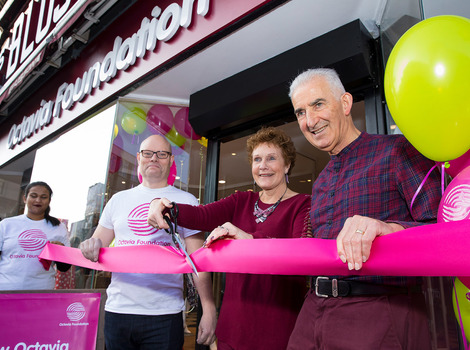 The iconic former 'Blustons' ladies clothes shop in Kentish Town, London, famous for selling the red and white polka dot 'Blustons dress' re-opened its doors as vintage charity shop this week (Saturday 17 November).
The store in Kentish Town Road is Grade II listed because of its rare 1930s style shop front, and is much loved by local people. It has stood empty for several years, since the family that ran it for 84 years finally sold the business in 2015.
Shoppers were queueing at the door as the shop reopened as an Octavia Foundation charity shop. There were celebrations inside the store to mark the occasion, with plenty of treats for shoppers, plus a chance to enter a free prize draw. There was also an auction for a famous Blustons dress, which was donated by the 1950s style clothing shop Viven of Holloway.
Blustons' former owners Michael and Marilyn Albert cut a ribbon to open the store. Mr Albert's family had owned Blustons since the early 1930s. His grandfather and grandmother started the business, as one of four shops they owned across north London. Mr Albert started working at the Kentish Town shop in the 1960s when he was just 16 years old, and retired when Blustons finally closed in 2015. The shop was closed and empty for a couple of years before it was renovated and reopened as an Octavia Foundation shop.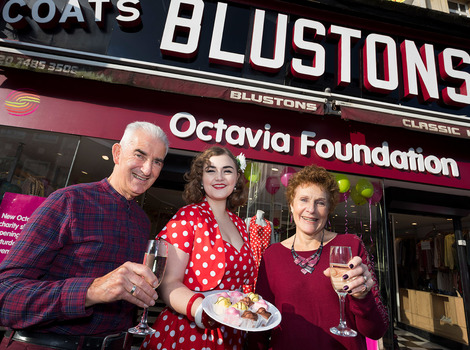 "All the shops my grandparents ran were called Blustons and they all had a similar 1930s design, but this is the only one left now so it is good that it has been protected by listed status," he said.
"I'm very pleased to see the shop open again. I think it is a positive thing for the local community and for me personally, it is great to see our old shop with its name so closely associated with my family, open for business again."
Octavia took on the Kentish Town shop's lease earlier this year and refurbishment work has been going on behind the boarded up windows for several months. The sensitive renovation has ensured that most of the shop's unique original features are on display.
On the outside, the Blustons original signs and iconic windows have been spruced up. On the inside, great care has been taken to incorporate original features such as light fittings, cornicing and even the original wooden cash till, within the new shop display. Even the old electric meter boxes remain on show, as a reminder of the fascinating history of the store.
Octavia Foundation Director Reena Mukherji said: "Octavia believes in supporting communities and it has been a joy for us to bring Blustons back to some of its former glory. People have a great affection for this shop, so we are looking forward to being able to open its doors to them again."
The new shop at 213-215 Kentish Town Road London, NW5 2JU, is open Monday-Saturday, 10am-6pm and Sundays, 12pm-5pm.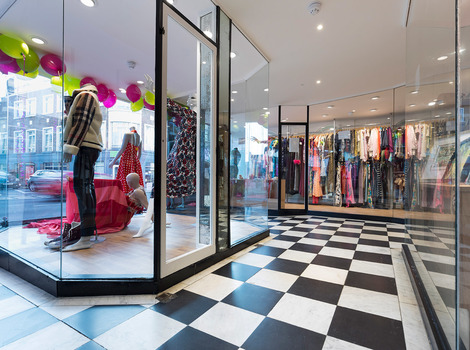 Sign up for updates
Sign up to our e-newsletter and receive all of the latest news and event details from the Octavia Foundation.
Subscribe
Tweets by @Octavia_Fdn