Thank you Bedford Gardens
Thursday 12 July 2012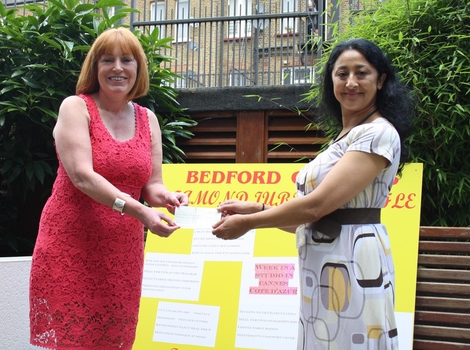 Residents of Bedford Gardens, Kensington, W8 raised £3,000 for the Octavia Foundation as part of their celebrations for the Queen's Diamond Jubilee earlier this year.
Reena Mukherji, the Director of the Octavia Foundation was presented with the donation by Charlotte and Mercy, residents of Bedford Gardens on Friday 13th July.
We are totally overwhelmed and delighted to have been selected as the beneficiary charity for this wonderful community event and very grateful to have received such a generous donation. The donation will be used to fund our summer sports programme for young people and our Christmas party for older residents in Kensington later this year.
This donation will make a huge difference to our work in and around Kensington and to older and younger members of our local community that benefit from these projects. We are so grateful to the residents of Bedford Gardens for their incredible generosity to their local community.
Reena Mukherji
Director
Sign up for updates
Sign up to our e-newsletter and receive all of the latest news and event details from the Octavia Foundation.
Subscribe
Tweets by @Octavia_Fdn