Octavia receives RBKC Mayor's Award
Monday 14 March 2022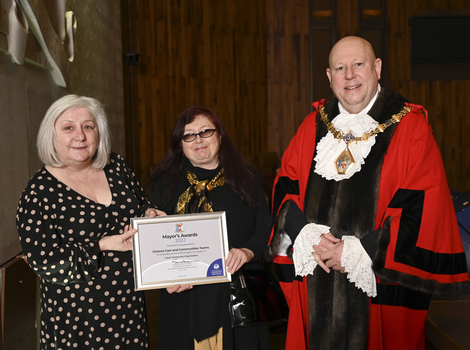 Octavia's Care, Support and Communities teams have received an award from the Mayor of the Royal Borough of Kensington and Chelsea for their outstanding work in supporting local people during the Covid-19 pandemic.
They were recognised with a Mayor's Award in the category of 'Local Community Organisation' for going 'above and beyond' their role to support people in the borough during the months of lockdown.
When the UK national Covid lockdown began in March 2020, Octavia quickly adapted its care, support and outreach services in order to ensure that vulnerable residents and people in the community were not left isolated, alone or in need of help.
Many colleagues went the extra mile to offer help to people throughout the pandemic and provide it whenever it was needed. Much of this intense activity was taken on by staff based at Octavia's The Reed community centre, in North Kensington, who were supported by other Octavia teams working remotely.
While most of the country was isolating at home, Octavia's Care team was out and about in Kensington and Chelsea, providing vital support in a number of ways, including hand delivering food vouchers to local people, preparing and delivering food parcels, shopping for residents who were shielding, visiting members of the Kensington Day Centre and vulnerable residents to provide social contact and emotional support, and working with local charity partners to distribute meals.
They were supported by colleagues from Octavia's Communities team, who arranged telephone befriending with Octavia volunteers for isolated people, undertook regular wellbeing check-in phone calls to see if needs had changed, and arranged the issue of emergency food parcels and food vouchers (often outside of their working hours).
Octavia Assistant Director of Care, Support and Communities, Neil McCarthy said: "The last two years have been difficult for many people in our community, but older isolated and vulnerable people have been among the worst affected.
"For many during the pandemic, Octavia carers were a friendly face at distance from the doorstep or window to say 'hello' and ask how they were getting on.
"They worked tirelessly in the community, week in, week out, when most of us had moved to working from home. They were always upbeat, even though, like the rest of us, they were unsure of the risks in those early days of Covid. They were driven by the needs of others.
"It is thanks to their dedication, and the dedicated support they received from colleagues, that we were able meet the needs of so many people in our local community during this time. As an organisation, we are very grateful to them, and we are honoured that their contribution has been recognised with this award."
Commenting on the award, the Mayor of the Royal Borough of Kensington and Chelsea, Councillor Gerard Hargreaves, said: "Mayor's Awards are given to recognise the people and organisations who serve our community and help make Kensington and Chelsea a great place to live, work and learn. On behalf of the whole borough, I thank Octavia's Care and Communities teams for their amazing contribution."
The award was presented at the RBKC Mayor's 2022 awards ceremony on Thursday evening (March 10).
Sign up for updates
Sign up to our e-newsletter and receive all of the latest news and event details from the Octavia Foundation.
Subscribe
Tweets by @Octavia_Fdn