Building brighter futures - Jada's apprenticeship story
Thursday 12 November 2020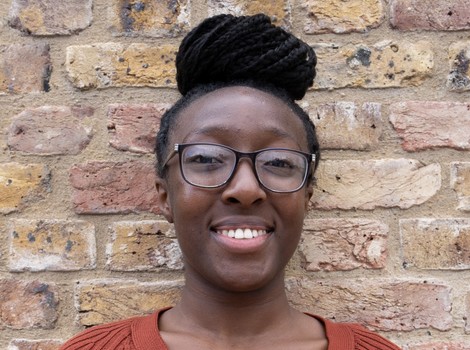 "Working at Octavia has equipped me with the skills I need to succeed."
Meet Jada, Octavia's Creative Youth Work Assistant. Joining the organisation as a college leaver in November 2019, her 12-month apprenticeship has opened new doors and prepared her for a career in youth work. Over the course of her placement, she has enjoyed being able to flex her skills in a dynamic environment and make a positive difference in young people's lives.
"My time at Octavia has taught me how to be a great youth worker. I have received a lot of personal and professional development support including training and coaching from my manager and colleagues. Throughout my apprenticeship, I have felt appreciated in my role and my work has been recognised as contributing something valuable to the bigger picture."
Working closely with Octavia's Youth Programme Manager, Jada delivered creative activities through their free digital youth club, Base@Reed. With sessions taking place four times a week, Base@Reed provides young people with a space to feel safe, valued, included and inspired.
"Over the last year, I've developed positive working relationships with the young people and have enjoyed seeing them grow in confidence each week.
Working within the youth programme team has exposed me to a range of different tasks, including leading on sessions, coordinating volunteers, managing a social media account and delivering presentations. I've also been given the opportunity to improve on my digital media skills – designing programme schedules using Adobe Illustrator and social media graphics using Canva."
Best known for providing affordable homes across central and west London, Octavia's work today takes a more holistic approach. Guided by an ambition to create quality opportunities for local people, they believe in the power of connections and community in supporting young people into great careers.
Latest government statistics show that 581,000 16- to 24-year-olds were unemployed between June and August this year - an increase of 35,000 from the previous quarter. Youth work apprenticeships are providing a solution to this growing problem. Lasting a minimum of 12 months, they give young people the chance to earn while they learn in a real job, gaining a nationally recognised qualification and real experience of working in the field.
"Through my apprenticeship, Octavia has supported me to gain a youth work practice qualification. The Level two accreditation I chose has provided me with the knowledge and skills needed to be a youth worker. Completing my Level two certificate has motivated me to work towards completing a Level three diploma and I'm grateful to Octavia for sponsoring this next step in my youth work journey."
When the crisis brought Octavia's face-to-face services to a halt, the team wasted no time in finding alternative entertainment for their young people – setting up a programme of online activities to help them stay connected and stimulated whilst at home. Jada has played a crucial role in the delivery of this programme, designing virtual activities that range from comic book creation to game design tutorials. Relishing the responsibility and rising to the occasion, she has felt a good balance between being supported, whilst also being given responsibility and room to grow.
"Working during the pandemic has been an interesting and unique experience. I've learnt to embrace change, troubleshoot and adapt to an evolving situation. I am grateful for the responsibilities I have been given, especially the freedom to design and deliver my own sessions. This has boosted my confidence, pushed me out of comfort zone and developed my leadership skills. I've also had the opportunity to contribute to strategy planning- helping my colleagues to come up with innovative ideas and find ways to engage our young people online."
Justifiably proud of the work her team does, Jada says: We've worked really well as a team and the fact that we transitioned into online sessions so quickly is testament to this. Base@theReed is such a unique provision. I've learnt a lot about good practice during my time here and I'm grateful this was my first introduction into working in a youth work and charity setting.
Like their founder, Victorian philanthropist, Octavia Hill, Octavia is an advocate for the community supporting each other. Driven by the ethos that by empowering one person, they go on to empower others, their support model aims to benefit individuals and the community as a whole. In keeping with this philosophy, Jada's aspirations are fueled by a desire to help other people and raise awareness of the importance of youth work.
"Working at Octavia has equipped me with the skills I need to succeed in my future career pathway. It has increased my passion for supporting young people to achieve their full potential. I recognise that some young people don't have access to particular opportunities and support systems and enjoy helping to fill this gap, especially in terms of mentoring young people on the power of their mindset."
Once Jada completes her apprenticeship in November, she will take on a new role as a Programmes Coordinator at leading charity, UK Youth. A step up in responsibility, her apprenticeship has given her the practical experience she needs to take the next step in her career journey.
"As a programmes coordinator, I will be responsible for coordinating the delivery of large-scale programmes that support young people to develop the skills, knowledge and experience they need to thrive. I feel well equipped and confident going into this role as I will have experienced completing many of the tasks it will cover – programme design and administration, database management, and bid writing–during my time at Octavia."
You can also read Jada's story on UK Youth's website here
Interested in a career in youth work? Apply to our Creative Youth Assistant apprenticeship here
Sign up for updates
Sign up to our e-newsletter and receive all of the latest news and event details from the Octavia Foundation.
Subscribe
Tweets by @Octavia_Fdn