Youngsters scoop runner up prize at international film festival
Friday 23 October 2020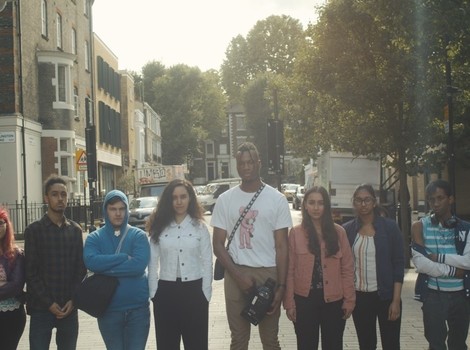 Punk Road, a film written, directed and produced by a group of 17 talented young Londoners has been awarded runner up prize for Best Documentary (short) at the London Rocks international film festival.
Punk Road is a broadcast standard 20-minute documentary celebrating the birth of the UK's Punk culture that started on the Kings Road in west London. It was filmed and produced by some of today's generation of young west Londoners, through a youth digital media project run by the homes, care and support provider, Octavia.
Their film is one of more than 300 film submissions for this year's London Rocks awards. Judges praised it as a "really impressive entry" that captures the essence of the impact Punk had on popular culture when it burst onto the scene from its roots on the Kings Road. The documentary explores through the eyes of today's youth, how fashion designer Vivienne Westwood's legendary shop at 439 Kings Road became the focal point of this monumental shift in youth culture, music and clothes.
Punk Road has already earned international recognition from across the indie film scene, including being a finalist at the LA Punk Film Festival and receiving nominations from Screen Power Film Festival, New Indie London Film Festival and the Lift-Off Sessions.
Production of the film was supported by Director of Photography Bani Mendy, who's mentoring was an inspiration for the budding young filmmakers, helping them to learn skills and confidence to take forward to potential future careers in the industry.
Bani Mendy, leading industry professional said: "Punk Road is a powerful and fascinating documentary and I'm delighted that it will be screened, alongside other high-calibre indie films, at the festival screening later this month.
This fantastic achievement is richly deserved and highlights the remarkable creativity and talent of the young people involved."
The film will be shown at the London Rocks film festival screening and online showcase taking place later this month. It will also feature in the festival's panel discussion on October 27, when one of the young 'Punk Road' producers will be joining the virtual talk.
Ade, Punk Road filmmaker said: "I really enjoyed my filmmaking experience. Seeing rough brainstorms, word documents and ideas come together to produce a full-length documentary was magical and it has inspired me to continue my journey in film."
Punk Road is a showcase documentary production from Octavia's Birth of Cool project, a National Lottery Heritage funded initiative that has seen over 100 young people creatively re-imagining a defining time of fashion, music and culture. Other project outputs include a heritage inspired art installation featuring curated t-shirts, blogs and photography, as well as a second Birth of Teenager film that is under production.
A host of engaging events have taken place as part of the project including Amber Butchart's 'Unclothing the fashion history of the Kings Road' event at Octavia's flagship community hub, the Reed Centre. Attended by the young filmmakers, the British fashion historian's talk explained how West London gave birth to a modern fashion culture that galvanised a 'youthquake' of anti-establishment ideas, design and music.
Notes to editors
About Birth of Cool
Birth of Cool is a National Lottery heritage funded initiative run by Octavia, a homes, care and support provider based in west London. The free project is empowering budding young creatives aged 13-25 to learn about the industry, acquire new skills and be inspired through meeting and working with industry professionals.
https://www.octaviafoundation.org.uk/birth_of_cool
About London Rocks
London Rocks (LRIFF)​, in the true spirit of the city of London, champions indie cinema that isn't afraid to push boundaries. The festival was established out of a need for a platform for filmmakers to show bold, innovative and authentic films, created within the city of London and internationally. It is twinned with Brighton Rocks International Film Festival, established in 2017, whose aim is to celebrate "films that fit with the City of Brighton's out-there creative universe.
We believe that those making work, regardless of budget and background, should have the opportunity to showcase their films in an inclusive setting with an audience who are looking to participate with something truly new and exciting. Operating outside the confines of mainstream platforms, London Rocks programmes events in underground spaces in London and aims to showcase a selection of films and year-round special events into the future.
About the National Lottery Heritage Fund
Using money raised by the National Lottery, we inspire, lead and resource the UK's heritage to create positive and lasting change for people and communities, now and in the future. Follow @HeritageFundUk on Twitter, Facebook and Instagram and use #NationalLotteryHeritageFund
About Octavia
Octavia helps thousands of people in central and west London through providing affordable homes, care, and community support.
Established by the social reformer Octavia Hill in 1865, we manage around 5,000 homes, including seven extra care schemes for older people.
We provide a range of support for people of all ages, through befriending, financial advice, and help with training and employment. Our youth projects work with hundreds of young people every year, providing social and culturally stimulating activities through our digital youth club, including access to industry standard media equipment.
Sign up for updates
Sign up to our e-newsletter and receive all of the latest news and event details from the Octavia Foundation.
Subscribe
Tweets by @Octavia_Fdn