Budding designers celebrate London's unique fashion history
Friday 7 February 2020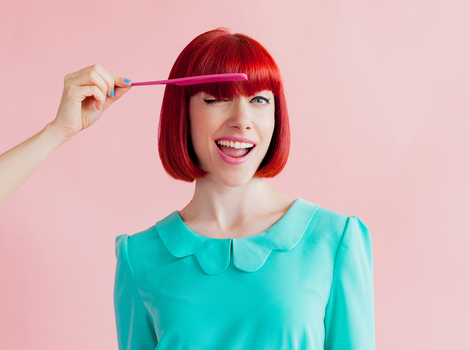 Youngsters re-live a historic 'Birth of Cool' youth culture that put west London at the centre of the fashion world.
In celebration of London Fashion Week and the impact of London in revolutionising popular style, Octavia through its Birth of Cool project, is staging free events for London fashion lovers later this month.
Evening with Amber Butchart
The project is hosting an evening with fashion historian, writer and TV presenter, Amber Butchart, who will be talking about the monumental impact of London's Kings Road on popular fashion culture in the 1960s; how it became a focal point of clothes design and helped make London cool decades before 'cool Britannia' emerged on the music scene.
Her talk at Octavia's community hub The Reed centre in North Kensington will explore how the Kings Road claimed its position in the 1960s, which it held on to through decades of sweeping cultural and social change, due to the talent, innovation and sheer rebellious energy of a succession of influential designers.
Amber's talk, 'Unclothing the fashion history of the Kings Road', is taking place on Thursday 27 February and is free to attend. Spaces are limited with online tickets available on a first come, first served, basis.
Amber Butchart said:
"I'm delighted to be revisiting the boutique boom of the 60s through the lens of the Kings Road, a revolutionary fashion era which continues to capture the imaginations of young people decades on - as illustrated in the Birth of Cool. The project is not only teaching new skills, it is also taking an important piece of fashion history, which has cultural parallels with our contemporary period, and illuminating it for a new generation."
Book your place for the Amber Butchart event here
Design installation at Octavia's Brompton Road Shop
Birth of Cool will also showcase a heritage inspired art installation, 'Dress by West', that re-imagines the 1960s Kings Road, an area renowned as a melting pot of music, fashion, protest and culture, at the Octavia charity shop on Brompton Road on February 20 to 21. This event is also free for members of the public to attend.
The curated t-shirt, blog and photography collection is the work of more than 20 talented young Londoners who have been led by artist Suzie Zabrowska and mentored by style photographer Nina Manandhar and brand guru Jayne Robinson.
For more information about these events, please contact Tamsin Cogan at:
Email: update@octavia.org.uk - Phone: 020 8354 5665.
Notes to Editors
About the Birth of Cool project
Birth of Cool is a National Lottery heritage funded initiative run by Octavia, a homes, community and care provider based in west London. The project is empowering budding young creatives to learn about the industry, learn new skills and be inspired through meeting and working with industry professionals.
The lottery funded project also saw young people bring the heritage of the Kings Road to life through a broadcast standard film celebrating 'Punk Road' that was unveiled at a local community screening in December 2019. The documentary, which is available for viewing online, delves deep into the eclectic history of Vivienne Westwood's iconic London boutique, famed for its outlandish 60s clothing that sparked a radical shift in fashion and youth politics and culminated in the birth of a new counter culture.
About Amber Butchart
Amber specialises in the historical intersections between dress, politics and culture. She has written books on the impact of film on fashion, and regularly speaks at cultural hotspots from the Tate to the V&A. She recently presented the BBC Four's A Stitch in Time, a six-part series that fused biography, art and the history of fashion to explore the lives of historical figures through the clothes they wore.
About Jayne Robinson
Jayne Robinson is a content producer and marketing strategist who has extensive product brand experience. She has spoken on panels at the BBC School of Journalism, been a judge for Company Magazine's #BbloggersApproved Beauty Awards and was an online beauty advisor for Beauty at Tesco.
About Nina Manandhar
Nina is a photographer who explores contemporary global youth identity and the meaning of style through her curated art projects. Driven by an enduring interest in people, underpinning her work is a will to champion authenticity in commercial and arts-based commissions. Her recent clients and project partners include Adidas, Getty, Mr Porter and Nike.
About Suzie Zabrowska
Suzie Zabrowska is a revered artist, educator and curator who explores the intersections of painting, film and sound. With a prolific career spanning four decades, her collection of Super 8 Black and White Films feature in the permanent collection of The Metropolitan Museum of Art. She now resides in London and has curated exhibitions and workshop programmes at arthouses including the V&A and the Open Eye Gallery.
About Octavia
Octavia helps thousands of people in central and west London through providing affordable homes, care, and community support.
Established by the social reformer Octavia Hill in 1865, we manage around 5,000 homes, including seven extra care schemes for older people.
We provide a range of support for people of all ages, through befriending, financial advice, and help with training and employment. Our youth projects work with hundreds of young people every year, providing social and culturally stimulating activities through our digital youth club, including access to industry standard media equipment.
Sign up for updates
Sign up to our e-newsletter and receive all of the latest news and event details from the Octavia Foundation.
Subscribe
Tweets by @Octavia_Fdn