Octavia Foundation bring festive cheer to local older people
Friday 20 December 2019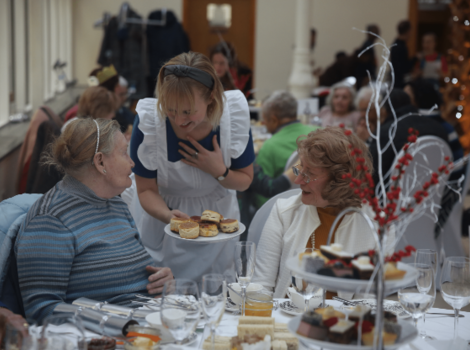 The Gloucester Millennium Hotel opened their doors to over 100 of our service users, befriendees and lonely and isolated people in the local community for our annual Christmas party on Thursday 5 December. The fun filled afternoon of festivities was a big hit with the party guests, and included an Alice in Wonderland themed afternoon tea, live music and plenty of boogying.
Christmas is renowned for being the season of joy and contentment across the world. A time to relax and appreciate the company of those that mean the most to us. But while many will find their holiday seasons filled with warmth from friendships and comfort from loved ones, it can be an extra difficult time of year for older people, with over half (51%) of all people aged 75 and over living alone (ONS, 2010).
Many of the attendees commented on how lovely it was to come together over the festive period:
Octavia befriendee Sandra said: "While experiencing isolation is always hard, no matter what time of the year it is, I always feel the absence of my friends and family more keenly over the festive season. I had been feeling very down lately but today I felt like my old self again: it did me the world of good."
Joy, another party goer, said: "This is my third Octavia Christmas party, and do you know what? It's actually worth getting old for!"
Several groups of corporate volunteers were on hand to bring a healthy dose of festive cheer to the event. Their contributions, both financially and on the day, helped ensure that it was an extra special afternoon for all who attended.
One of the corporate volunteer teams said: "Thank you so much for having us help out today at your event. It really was fantastic and everyone who came along seemed to really enjoy themselves – with or without a raffle prize. It's great to keep working with you, and hopefully we can do much more together in the new year."
Sainsbury's Brompton Road kept the Christmas spirit up by very generously donating goody bags for each older person who attended. Many of the attendees have mobility issues which contributes to their isolation, so transport and help was arranged to ensure all those who wanted to attend, could.
Party guests were also treated to Christmas cards written by school children from Barlby Primary School. Students from the local school were there on the day to present these personally to the guests.
Reena Mukherji, Director of The Octavia Foundation, said: "We support older, isolated and vulnerable people throughout the year with our befriending projects but we know that Christmas is a particularly important time to reach out to those in need. One lady who came to a recent event we held had not left her house in over 2 years; hearing stories like this remind us of how vital and life changing our work can be."
As the photos illustrate, a wonderful time was had by all.
Sign up for updates
Sign up to our e-newsletter and receive all of the latest news and event details from the Octavia Foundation.
Subscribe
Tweets by @Octavia_Fdn