Octavia volunteers awarded at Lambeth Palace
Thursday 6 June 2019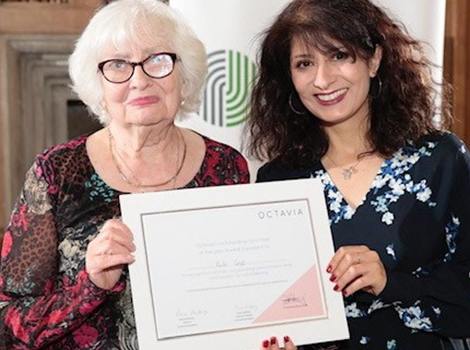 Over 150 volunteers gathered at the annual Awards Ceremony at Lambeth Palace yesterday, with British comedian and author Shappi Khorsandi participating as a fabulous host.
The event, coinciding with Volunteers' Week, celebrated the valuable contributions of those individuals who make a difference by donating their time to help Octavia deliver services and activities.
Talking about the initative, Shappi said: "as someone who has grown up and still lives in London, I am really pleased to be part of an event that recognises the extraordinary contribution Octavia volunteers make to improving lives of local people and building happier communities. The individuals celebrated at this event have a lasting impact on those who they help. In true London fashion, they come from a diversity of backgrounds and yet are all driven by the desire to improve someone else's quality of life."
Over 100 nominations were received based on seven award categories – reflecting outstanding performance in assisting in one of Octavia's charity shops, befriending an older or lonely person, helping at one of Octavia's care schemes, partaking in one of Octavia's youth programmes, or being involved in community or resident groups that help to improve lives for a wider group of people. The categories were:
Care Volunteer of the year
Befriending volunteer award
Shop volunteer award
Team volunteer award
Young volunteer award
Community volunteering award
Outstanding volunteer award
Winners are selected by a panel of judges, which this year included guest judge Dr Diahanne Rhiney, award-winning agent of change and Founder of the "Strength With In Me" Foundation, as well as Gwen Godfrey and Reena Mukherji, respectively Chair and Director at Octavia Foundation.
Sarah Mbatha, Director of Homes, Care & Community at Octavia, said: "Our ambition is to create good homes and better lives. Over the last 150 years, we have been continuing to deliver this mission based on the principles of our Founder, Victorian Philanthropist Octavia Hill. The contributions made by our volunteers is essential to helping us deliver on this mission and our Volunteer Awards Ceremony is one way that we can recognise and thank them for the brilliant work that they do. They are all worthy winners in our eyes and I'd like to thank all our sponsors for making the evening possible."
(Pictured above are Shappi and Rita Goff, winner of the "Outstanding Volunteer of the Year" Award for her hard work in our Askew Road shop. Rita has volunteered in our shop for 18 years and received over 5 nominations from different individuals. She is described as being "one of the most reliable and friendly people ever known").
Sign up for updates
Sign up to our e-newsletter and receive all of the latest news and event details from the Octavia Foundation.
Subscribe
Tweets by @Octavia_Fdn