Volunteer doing something that you love
Friday 8 February 2019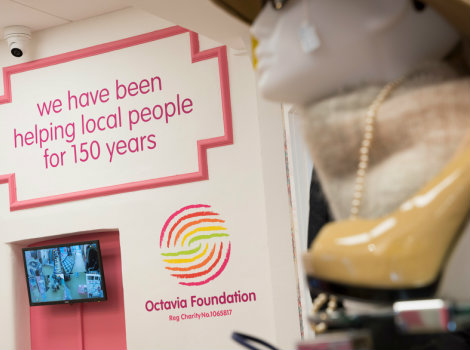 If you have a keen eye for designer fashion and are looking to volunteer in your local community, or if you want develop your customer service skills to provide a high end shopping experience, talk to us about volunteering opportunities at our charity shops.
We are looking for friendly volunteers who adhere to our values of being reliable, respectful and responsive - people who enjoy working as part of team who are able to commit four hours a week of their time.
As an Octavia volunteer you will receive lots of training in the role and be helping to raise money for our charitable Foundation and support the work we do in the local community.
Here's what Zahraa, Octavia's Retail Volunteer Coordinator, has to say about the benefits of volunteering with Octavia Foundation shops:
"Volunteering in our charity shops presents a fantastic opportunity to make such a difference in our local communities while gaining new skills and experiences.
"We really value our volunteers. Every year we celebrate the fantastic contribution that volunteers make to Octavia at an awards evening – you can see how we celebrated last year on our website."
If you're interested in applying to be a volunteer in one of our shops, take a look at the further information here. If you want to talk to someone about our volunteering roles, come and meet us at one of our shops.
Octavia Foundation supports people affected by ill health, social isolation, low income or unemployment in central and west London.
To apply online to be an Octavia Foundation volunteer use this link.
Sign up for updates
Sign up to our e-newsletter and receive all of the latest news and event details from the Octavia Foundation.
Subscribe
Tweets by @Octavia_Fdn