Tamsin Greig to present Octavia Foundation Volunteer Awards
Tuesday 27 June 2017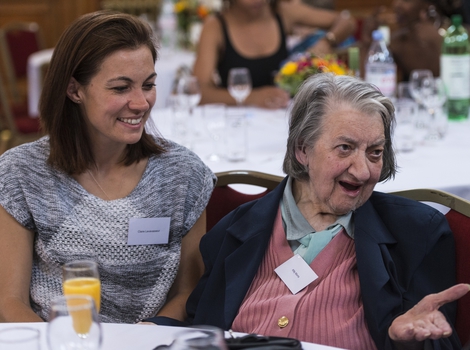 The Octavia Foundation is delighted to announce that actor Tamsin Greig, will be presenting the Octavia Foundation Volunteer Awards at Chelsea Old Town Hall on Thursday 29 June.
The Octavia Foundation helps over 2,000 people each year by:
• Caring for older people through befriending and social activities
• Supporting children and young people through inspirational projects and outreach work
• Helping people into work through volunteering and training
Tamsin Greig, said:
"Volunteering is a wonderful way to give something back. We can always learn from those around us and I'd take a bet that we all have more in common than we might think. Whether it's visiting an older person or inspiring someone younger than themselves, Octavia's volunteers are making a positive difference every day."
Reena Mukherji, Director of the Octavia Foundation, says:
"The Octavia Foundation's success depends on the wonderful people who visit isolated older people each week, work on our projects for children and young people and keep our charity shops running. Quite simply, we couldn't do any of it without them."
The Octavia Foundation Volunteer Awards:
Our annual volunteer awards celebrate the huge difference that all our volunteers make to the lives of local people in west and central London and recognises those who have made an exceptional contribution.
Over the past 12 months, more than 200 local people and organisations have given their time to support the work of the Octavia Foundation.
Our volunteers provide emotional and social support to older people, inspire and motivate local young people, help to raise funds in our 20 charity shops and support a vast range of projects and activities.
Corporate Volunteer Award nominees this year include the John Lewis Partnership, Sainsbury's, Cadogan Estates and Grosvenor.
The Octavia Foundation aims to transform the lives of those in west and central London, connecting people affected by low income, social isolation, ill health or unemployment with opportunities for positive personal change.
The Octavia Foundation Volunteer Awards Categories for 2017:
Shop Volunteer Award
Befriending Volunteer Award
Project Volunteer Award
Young Volunteer Award
Corporate Volunteering Award
Community Volunteering Award
Outstanding Volunteer Award
Care and Support Volunteer Award
Sign up for updates
Sign up to our e-newsletter and receive all of the latest news and event details from the Octavia Foundation.
Subscribe
Tweets by @Octavia_Fdn