Go for it, Gossip Girls!
Thursday 25 May 2017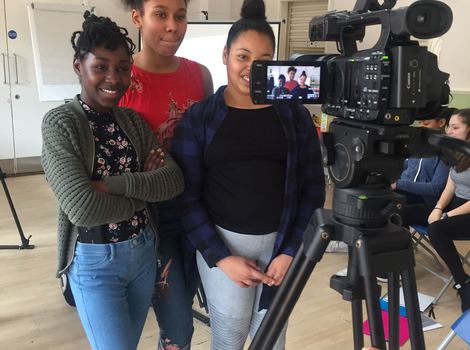 We saw what girls are made of when members of the Girls' Group run at our youth project, Base@theRiver created a new talk show.
After months of effort, both in front of and behind the camera, the group produced the four-part talk show, which they called Gossip Girl.
Giving girls a voice
This Girls' Group aims to empower young women, so the teenagers working on this project chose themes that affect them and their peers, including self-esteem, bullying and social media.
They then had professional training from youth arts charity DreamArts to develop the skills to produce the show, from camera work to production and editing. The project also gave the girls an opportunity to practice public speaking and debating and learn the importance of teamwork.
Family and friends enjoyed the screening, at which the girls involved also talked about what they'd learned from the project. Kelly, one of the participants, said: "This project has shown me why you should try things before saying no. I realised that I have skills I never thought I did."
To find out more about Base visit octaviafoundation.org.uk/our_work/activities_and_projects/156_base
Sign up for updates
Sign up to our e-newsletter and receive all of the latest news and event details from the Octavia Foundation.
Subscribe
Tweets by @Octavia_Fdn