Waking the dead
Thursday 25 May 2017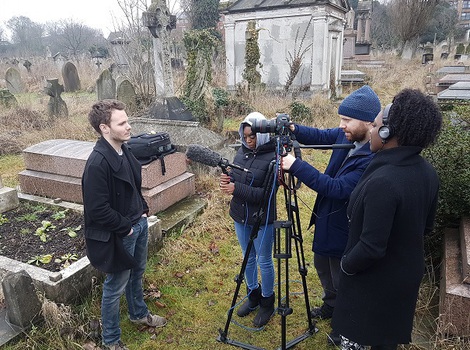 Social isolation continues to grow in London, and recent research* shows that young people are amongst the biggest sufferers. In our latest digital media project, we turned to an unusual topic – death - to help bring young people out of isolation and inspire them for the future.
Our Waking the Dead project focused on uncovering some of the fascinating histories of people buried in Kensal Green Cemetery. 100 younger people got involved and followed an incredible creative journey.
Supported by £76,000 from the Heritage Lottery Fund, they helped to research the prominent figures buried in the cemetery and then brought them to life through film and writing. We held workshops covering a wide variety of topics from encouraging creative expressions of death to digital media training.
Over several months of hard work the young people produced two films and the UK's first cemetery smart phone app which provides interactive tours of the cemetery. Watch the films and download the app at octaviafoundation.org.uk/our_ work/media_projects
*You're not alone- The quality of UK's social relationships- Relate 2017
Sign up for updates
Sign up to our e-newsletter and receive all of the latest news and event details from the Octavia Foundation.
Subscribe
Tweets by @Octavia_Fdn