Designer Event raises over £10,000
Tuesday 15 November 2016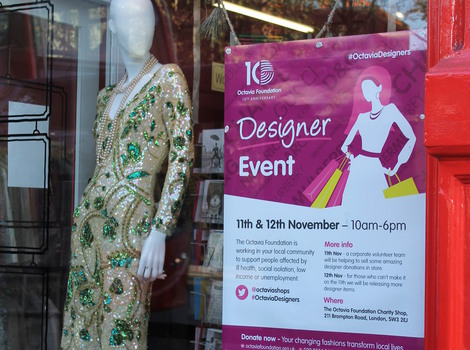 Designer event at Octavia Foundation Brompton Road raises over £10,000
The Octavia Foundation held a 2 day designer event at our fashion focused Brompton Road shop. On 11 November, the event started with a challenge day during which a team of corporate volunteers helped Octavia staff and volunteers to sell some amazing new and donated designer items in store. On 12 November the event continued with even more items being released, leading to over £10,000 being raised across the 2 days.
The 2 day designer event included pieces from fashion designers Chanel, Mulberry, Burberry, Hermes, Georgio Armani, Gucci, Prada, D&G, Nina Ricci, Asprey, Vanessa Bruno, Celine, Valentino, Marc Jacobs and Matthew Williamson among others.
Hosting a 'challenge day' is an opportunity for corporate volunteers to use their customer service skills to help raise money for the Octavia Foundation.
Reena Mukherji, Director of The Octavia Foundation, says:
We are so pleased that this designer event has raised over £10,000 for the Octavia Foundation. This event provides much needed funds for our work in supporting Londoners and we are grateful to our corporate volunteers for assisting us. We celebrated our 10 year anniversary in 2016 and we have big plans to do even more for the local community in the future, including our new Kensington based digital media offering for young people, opening in 2017.
We hoped these new and donated pieces from prestigious designers would encourage customers to support our work by making a purchase.– the Octavia Foundation charity shops are well known for their high quality stock with our Brompton Road store previously having been voted 'best charity shop' by Time Out. We are always in need of quality donations- your changing fashion help transform local lives.
sign up to our newsletter to find out about future events
Sign up for updates
Sign up to our e-newsletter and receive all of the latest news and event details from the Octavia Foundation.
Subscribe
Tweets by @Octavia_Fdn