New course helping long term unemployed get back to work
Friday 3 June 2016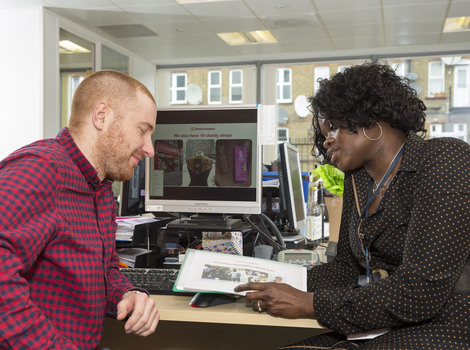 A new course for the long term unemployed has been launched in Kensington & Chelsea and Westminster. 'Learn2Earn' provides a bespoke service that is tailored to individuals' circumstance, abilities and goals.
The new course encourages people to take ownership over their next steps in their journey towards volunteering or being employment ready and fills a gap not covered by job centre work programmes, which are designed on a more generic basis. The three month course is accessible to all people at all levels and helps people to build on existing skills, reinforce them, and develop new ones.
A service user from the course, said:
I've been unemployed for a while, this course will help me to get back into work, even if it doesn't lead into work at least I'll be better prepared with all the new skills I'm gaining. Learn2Earn is a good environment, easy going and the tutors are great and knowledgeable. I've enjoyed all of it so far."

Wendy, O'Neill, Volunteer Programme Manager (Octavia Foundation), said:
Learn2Earn supports and encourages clients who do not feel work ready or have been long term unemployed to access voluntary positions. Volunteering offers individuals an excellent opportunity to learn new skills, expand and develop current skills, improve confidence and self-esteem while giving something back to the community. Volunteering also enables an individual to try out different roles and to introduce them into a work place environment at their own pace."
The Octavia Foundation delivers the third module in the course which teaches people how to write a CV, apply for jobs and get interview tips. We also take a lead in providing voluntary positions and employment support to individuals on the course depending on the their goal.
If you or know someone that may benefit from attending the course, then please contact Anna on 020 8960 5599 / email learn2earn@blenheimcdp.org.uk or Wendy on 0208 354 5682 / Wendy.Oneill@octaviafoundation.org.uk
Sign up for updates
Sign up to our e-newsletter and receive all of the latest news and event details from the Octavia Foundation.
Subscribe
Tweets by @Octavia_Fdn