Outstanding volunteers win awards
Friday 6 June 2014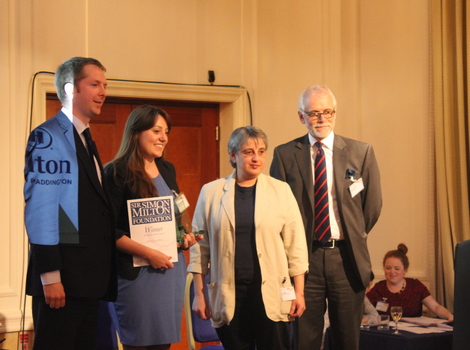 Two Octavia Foundation volunteers have been recognised for their outstanding contributions at the Westminster Community Awards 2014, celebrating people and organisations in the neighbourhood who go above and beyond to help make life better for the people who live there. The Octavia Foundation was also named winner of the Better City, Better Lives award for our work at our BASE creative learning centre for young people.
Local residents Alice Caffyn and Andrew Lockhart both won awards for their dedication in giving their time to help improve their local communities through volunteering. Nominated by Octavia Foundation Volunteer Coordinator Catherine Andrews, both volunteers have given their time every week for years to help reduce isolation for lonely older local people. Alice, 24, won the Young Volunteer Award. Catherine said:
Alice was keen to give something back to her local community and was matched with Joachim, a gentleman in his late 50's who had become very isolated due to a long term mental health condition. Joachim is a very friendly and chatty person who really appreciates Alice's weekly visits. Joachim really values Alice's company, and her reliability and commitment to her role mean a lot to him. Alice sees her befriending role as an opportunity not only to support a person in need, but also to learn from someone with more life experience and develop her own skills.
Dedicated befriender Andrew Lockhart was recognised for the Sir Simon Milton Award for supporting an older person. Catherine said:
Andrew began volunteering as a befriender to support his studies in psychotherapy. Over four years later, he has become a well-loved and valued member of the team. He has been a consistent and utterly reliable volunteer, despite the pressures of completing his qualifications and these qualities have enabled him to build truly meaningful relationships with his befriendees.
Dee, aged 84, is visually impaired and very active within Westminster. After a stroke a few years ago, she felt unable to go out but, because of Andrew's regular visits, she managed to build her confidence again; "Andrew comes to see me once a week. He is one of the nicest people I know; intelligent, great sense of humour, unfailingly courteous and really good company. We are never at a loss for something to talk about or discuss. I am very lucky to have him as a visitor and he will always be welcome in my house." Andrew's constant support has enabled Dee to continue accessing local activities and she continues to be a vibrant member of the Westminster community.
Octavia Foundation were also named joint winners of the Better City Better Lives award for their work with young people at their BASE creative learning centre in Pimlico. Victoria Nzeribe, Youth Programmes Manager, said:
The young people who attend BASE are encouraged to think about who they are and what they aspire to be; how they can identify, develop and enhance their skills so they can make informed positive decisions in their own lives and a positive contribution to society. Our work at BASE was recently independently assessed by consultant Annabel Jackson; the assessment included carrying out interviews with the young people who attend. One of them said; 'The learning here feels more relevant. School teaches you academic matters but in BASE you are learning about life.'
Octavia Foundation launched a campaign this Spring and Summer to raise more funds for our work with young people who come from families living in some of the most affluent boroughs in the country but who are affected by poverty, unemployment, ill health and social isolation; we are asking local people to have a sort out this Spring and Summer and donate their unwanted good quality clothes to our charity shops to help raise funds.
Octavia Foundation was also highly commended for the Outstanding Organization Award at the awards ceremony which took place on Thursday 5 June at the Hilton London Paddington and volunteer Geraldine Riordan was commended in the Inspirational Volunteer category for the time she spends with local isolated older people through our volunteer befriending scheme.
We always need more volunteers to spend time with isolated older people in Westminster and to keep our charity shops running. Find out more about our volunteering opportunities and how you could support our work with young people through giving to our charity shops in these website pages.
Sign up for updates
Sign up to our e-newsletter and receive all of the latest news and event details from the Octavia Foundation.
Subscribe
Tweets by @Octavia_Fdn