Young people recognised by youth awards
Thursday 3 April 2014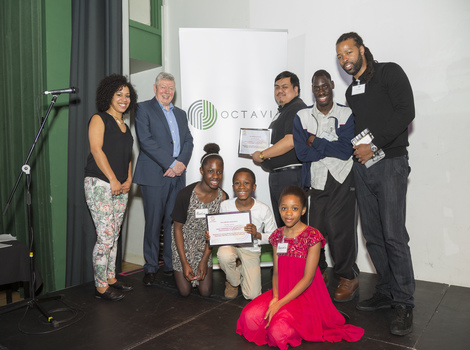 Six of the amazing young people that we work with were recognised in our first ever Youth Awards which took place on Wednesday 2 April at our friends Octavia's event, An evening with the RT Honourable Alan Johnson MP. We awarded a winner and two highly commended young people in the two categories of Rising Star and Youth Leadership.
Amirhon Kamariddin aged 15 and Andy Levry aged 9 were highly commended as Rising Star's with Ayo Bodurin aged 25 winning the award. Emily Williams, Octavia Foundation Project Support Officer nominated Ayo and said:
"Since the start of the Story of QPR Film project, Ayo has been one of the most committed participants, bringing his boundless energy and enthusiasm to every activity. Ayo has a remarkable drive to succeed, as well as a genuine concern for helping people. He is someone who doesn't give up, and is definitely a rising star!"
Highly commended in the Youth Leadership category were Lex Quiambao, 27 and Alexis Jones, 18. Michael Hagan, aged 28 was the deserving winner of the award. Kate Glinsman, Octavia Foundation Youth Worker, nominated him:
"Michael has a passion for writing and developing his own plays and scripts, and a strong drive to encourage local talent and youth participation. He is always willing to share his knowledge, experience and expertise to help others – often supporting others with their own creative endeavours. Michael's positive demeanour means that he is always looking for solutions, rather than focusing on obstacles. Undaunted by challenging situations, Michael is "a great team player and valuable comrade".
Congratulations to all of the winners and nominees.
Sign up for updates
Sign up to our e-newsletter and receive all of the latest news and event details from the Octavia Foundation.
Subscribe
Tweets by @Octavia_Fdn