Best charity shops for celeb cast offs
Friday 22 November 2013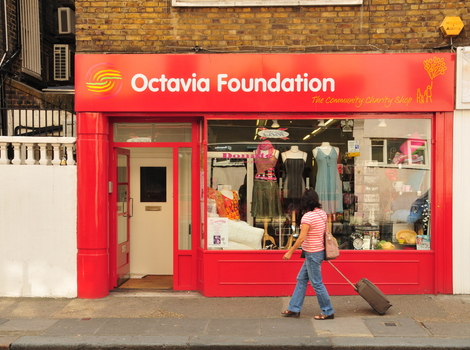 Our charity shops have been named as some of the best for finding celebrity cast offs in the Guardian 'guide to the swankiest charity shops in the country.'
Following David and Victoria Beckham donating some of their cast-offs to a charity shop, the newspaper put together a guide to the best charity shops in the country to find designer bargains in, highlighting the great finds in our 18 London shops and flagship Brompton Road store:
"With stores in some of the wealthiest areas of London, including Kensington, Richmond and Hampstead, the 18 Octavia Foundation shops are renowned for stocking quality items – in the past including vintage Vivienne Westwood and Ossie Clark, as well as pieces by Christian Louboutin and Stella McCartney. At the moment, you can pick up a pair of Alexander McQueen boots for £45 in the Brompton Road branch."
Other cosy finds currently on sale in our Brompton Road store include a William Sharp 100% cashmere black ladies scarf covered in Swarovski crystals, a Burberry cashmere hat and Coach knee length winter boots. Find your nearest shop here.
Sign up for updates
Sign up to our e-newsletter and receive all of the latest news and event details from the Octavia Foundation.
Subscribe
Tweets by @Octavia_Fdn