Blue plaque unveiled for Amy Ashwood Garvey
Thursday 5 November 2009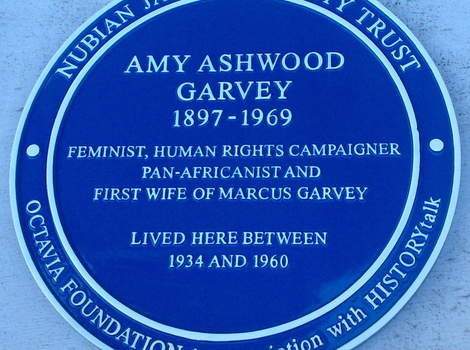 The Octavia Foundation in partnership with the Nubian Jak Community Trust are proud to announce the unveiling of a Blue Plaque to commemorate and celebrate the life and achievements of Amy Ashwood Garvey.
The unveiling took place at 1 Bassett Road, London W10 at 11.30am on Thursday November 5th 2009, conducted by Jamaican High Commissioner, Burchell Whiteman and the Mayor of RBKC, Timothy Coleridge.
Amy Ashwood Garvey was the first wife of Marcus Garvey and lived at 1 Bassett Road from 1934 until 1960. She was a highly influential figure in west London during her lifetime, both as a campaigner for human rights and a pan-Africanist.
Following the unveiling there was a reception held locally with Caribbean food, calypso music and speeches from people who knew Amy, or her work.
We were also joined by Alex Pascall MBE, the BBC's premier black broadcaster and close associate of Claudia Jones.
Amy and Claudia feature in the Octavia Foundation's recent youth-led film project Hidden Herstories.
Sign up for updates
Sign up to our e-newsletter and receive all of the latest news and event details from the Octavia Foundation.
Subscribe
Tweets by @Octavia_Fdn