Schools Film Competition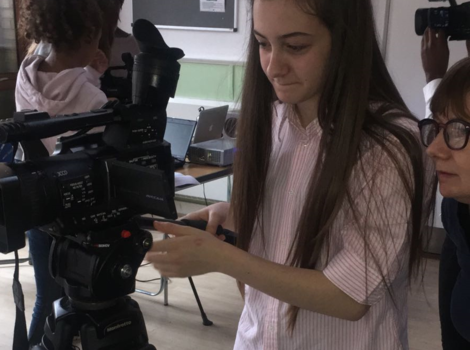 The Octavia Foundation is opening a new digital media youth club, Base@theReed, in September and to celebrate this we are launching a schools film competition with prizes including £1000 for the winning schools and £250 worth of Amazon vouchers for the winning students.
We are inviting students from schools from Royal Borough of Kensington and Chelsea, Hammersmith and Fulham, Westminster and Brent, aged 11-18, to create a two minute film based on one of the following themes;
My community…
Or
If I had the power to change the world I would…
What we are looking for are creative and imaginative films that have a positive and inspiring message. They can be made on anything from a mobile phone to a camcorder, an iPad to a DLSR and can be any genre such as comedy, animation, music video, documentary, action, drama or a news report! It is all entirely up to the film maker(s), who can work in teams or as individuals. Shortlisted entries will then be shown at a special awards evening in November where film-makers and schools will be presented with their awards. It will be a great evening to celebrate young people's creativity!
How to enter
Step One
Pick a theme, either My community or If I had the power to change the world…
Step Two
In a group or on your own, produce a 2-minute film. You can use any type of filming equipment including a mobile phone.
Step Three
Send your finished film to Andrew South, Digital Media Programme Manager, andrew.south@octaviafoundation.org.uk via either a YouTube or Vimeo link or through DropBox/WeTransfer. When uploading the film to YouTube/Vimeo please use the hashtags #OctaviaFoundation #BaseAtTheReed #MyOctaviaFilm
What are the prizes?
The prizes for this year's film competition winners are:
For the winning schools:
• £1000 donation to the school from the Octavia Foundation
• A trophy and certificate awarded to the winning student
For the winning student/team (based on a maximum of five students per team):
• Overall winning team or individual: £250
• Second Place: £100 Amazon voucher
• Third Place: £50 Amazon voucher
Everyone who takes part in the competition will receive a certificate from the Octavia Foundation.
The closing date for entries is Friday 20th October 2017. There is no limit to how many entries each school can have…. basically the more the better! The competition will be broken down to two separate age categories; Group 1 Y7, Y8, Y9, Y10, Y11 and Group 2 Y12 and Y13. Shortlisted film-makers will be invited to an awards evening at Base@theReed on Wednesday 29th November when the results of the competition will be announced.
You can download full guidelines, entry forms and filming permission forms by clicking on the link below:
Download guidelines, entry forms and filming permission forms here
For more information or if you have any queries please contact Andrew South, Digital Media Programme Manager andrew.south@octaviafoundation.org.uk / tel. 0208 354 5534